Falklands' Patrol Vessel HMS Clyde to be relieved by HMS Forth
Friday, September 22nd 2017 - 08:47 UTC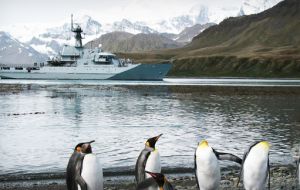 HMS Clyde celebrates her tenth anniversary in the South Atlantic this week. The Falklands Patrol Vessel was commissioned on July 5, 2007 and arrived on September 21.
She has only left the South Atlantic operating area twice in the last ten years, to conduct essential five yearly engineering maintenance packages in dry dock in Simon's Town, South Africa.
HMS Clyde's Commanding Officer, Lt Cdr James Reynolds said the role was an honour and "you can tell that people have become attached to her over the years.
"During our regular patrols and visiting outlying settlements, the people we meet are always asking after the ship and the ship's company, and sharing memories of previous visits and it is clear she has left her mark with many."
In the next 18 months HMS Clyde is due to be relieved by HMS Forth; the first of the Royal Navy's brand new Batch 2 River Class Offshore Patrol Vessels. (Penguin News)