Cruise 2017/18 season takes off in Punta Arenas with the "Stella Australis"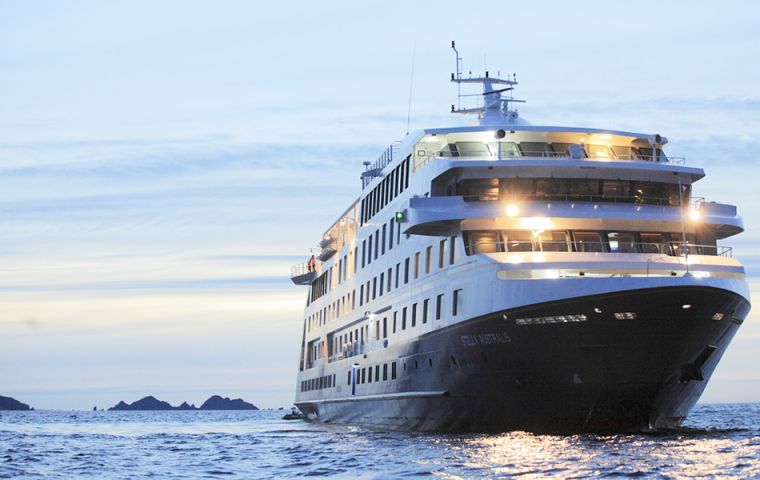 The Chilean flagged "Stella Australis" opened this week the Punta Arenas 2017/28 cruise season, which is expected to extend until the end of March. Probably the most experienced company to enjoy the glaciers and fjords of Tierra del Fuego, its cruises make round trips between Punta Arenas, extreme south of Chile and Ushuaia, capital of Argentine Tierra del Fuego.
The 100 cabins (220 pax) "Stella Australis" normally opens and closes the Punta Arenas regional cruise season which this summer is scheduled to complete 41 calls with 11.152 passengers. Of those 41 calls, "Stella Australis" will be responsible for 30 and 8.160 tourists while on January 2, the company is incorporating its latest acquisition, state of the art "Ventus Australis", with a similar capacity and which will complete 11 calls with 2.992 passengers.
According to Punta Arenas tourism officials a total of 112 calls are expected this season between (41) regional and (71) international cruises, totaling 96.270 passengers. The first international cruise is expected on 21 October.
"Australis is looking forward to a very promising season, not only because we have an additional state of the art vessel, but also because Punta Arenas has an improved jetty (Prat) which can dock vessels up to 250 meters long", the company's manager Gerardo Alvarez said.
He added that "this is the 213th cruise since the Chilean company was started 26 years ago, which makes us the leading cruise operators in Patagonia, to which we are adding state of the art Ventus with a 272 capacity, 210 passengers and 62 crew members".
The new vessel, 89 meters long, has a cruise speed of twelve knots and is powered by two 1.400 HP Cummins engines, plus all the latest navigational equipments.
As to the extended port facilities of Punta Arenas, which demanded an investment of 13 million dollars, Alvarez said they it have a great impact for the industry, but also pointed out that since the Australis are relatively small vessels compared to international cruises, it is obvious that the better infrastructure will favor larger vessels, and hopefully at the height of the season, "we will have access to the dolphins system", instead of having to anchor out in the bay.