Labour divided over Brexit policy, but Corbyn upbeat about winning government for ten years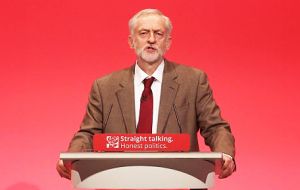 Jeremy Corbyn is resisting pressure from Labour MPs to commit the party to keeping the UK in the EU single market after Brexit. As activists gathered in Brighton for the start of Labour's annual conference, 30 senior figures have written an open letter calling for the party to do whatever it takes to keep Britain in the single market and the customs union.
But in a high-profile TV interview kicking off the week's events, Mr Corbyn said Labour needed to be careful not to give up powers which it will need in government to deploy state support for industry.
An upbeat Mr. Corbyn, who goes into the conference in an unassailable position just a year after facing an attempt to oust him as leader, said the Conservative Government was "running out of steam", while within Labour "the steam is rising, not falling, and the movement is stronger than ever".
He confirmed he had received unanimous support from Labour's ruling National Executive Committee to give greater power to party members, including by giving conference the final say on deciding policy.
In an interview with BBC1's Andrew Marr Show, the Labour leader repeatedly dodged the question of whether he would join picket lines on an illegal strike, but said he would "be with" workers demanding decent pay rises.
The 68-year-old veteran was reported by the Sunday Mirror to have said that he wanted to serve 10 years in Downing Street – something which could keep him in power until the age of 83. However, he suggested in his TV interview that this was the period he thought Labour needed to push through its agenda.
"What I said was that we need at least two terms of a Labour government to start to address issues of poverty and injustice and inequality in Britain and to build the houses we need in this country," said Mr Corbyn.
Shadow Brexit secretary Sir Keir Starmer has previously said that under a Labour government Britain would remain in the single market and the customs union for a transitional period of two to four years after Brexit.
But signatories to a letter published in the Observer, including former shadow cabinet members Chuka Umunna and Heidi Alexander, as well as one of Mr Corbyn's closest allies in his early days as leader, Clive Lewis, said the party should go further to protect jobs and workers' rights.
The letter, which was also signed by the TSSA union's general secretary, Manuel Cortes, former Northern Ireland secretary Lord Hain and Liverpool mayor Joe Anderson, warned that leaving the single market would "hit the most vulnerable in our society hardest".
"At our conference this week, Labour should commit to staying in the single market and customs union – ruling out no options for how to achieve this – and to working with sister parties and others across Europe to improve workers' rights, boost trade union membership and put an end to the exploitation of workers, not freedom of movement," they said.