EU and UK clash over Brexit: both sides set conditions to advance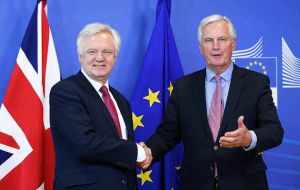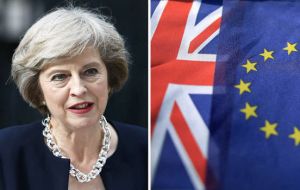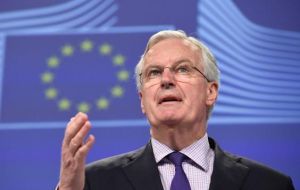 The EU and Britain resumed Brexit talks on Monday with fresh clashes, dimming hopes that a speech by Prime Minister Theresa May could provide a breakthrough in unlocking stalled negotiations. The EU's chief negotiator Michel Barnier insisted that he would not discuss May's call for a two-year post-exit transition deal until there was progress on key issues, including Britain's divorce bill.
But in a sign of the circular arguments that have characterised the negotiations so far, British Brexit minister David Davis linked any settlement of the multibillion-euro bill to reaching a deal on future relations.
"There are no excuses for standing in the way of progress," Davis said in a brief statement to reporters alongside Barnier at the European Commission's headquarters in Brussels.
The talks, the fourth round so far between Britain and the EU, are expected to focus on the details behind May's broad proposals in her speech in Florence, Italy, last Friday.
Barnier called for a "moment of clarity" on the three key issues — the bill, the rights of millions of EU citizens living in Britain, and the border between Northern Ireland and Ireland.
EU leaders insist they will not move to the second phase of negotiations — including any transition period, and a future trade deal— until there is "sufficient progress" on the divorce. "For me, we cannot discuss a transition period without reaching a preliminary agreement on an orderly withdrawal. That's the mandate I have, and no other," Barnier said.
"We will not mix the discussion on the debts and commitments of the past... with a discussion on future relations," the Frenchman said. Davis, however, directly challenged the EU's timetable for the talks, saying that an agreement on the bill— which EU officials have put at 60 to 100 billion euros -- was linked to an overall deal.
"The UK will honour commitments we've made during the period of our membership. But it's obvious that reaching a conclusion on this issue can only be done in the context of, and in accordance with, our new deep and special partnership with the EU," he said.
Initially the hope was to tie up the first stage of talks at an EU summit in October, but EU officials say that is now unlikely to happen before December.
The talks were delayed by a week in order to await May's cautiously well-received speech, which was hailed by Barnier as a "constructive" step forward.
May proposed a transition period of around two years after Britain's formal departure date in March 2019, during which it would still effectively follow EU laws, to ease the sudden "cliff edge" of new regulations for businesses and citizens.
She promised to meet Britain's existing EU budget commitments until 2020 — which Britain estimates at around 20 billion euros — and outlined new legal guarantees for the rights of about three million EU nationals living in Britain.
The third condition is the fate of Northern Ireland's border with the EU-member Republic of Ireland, where both sides are wary of endangering the Good Friday peace process.
French President Emmanuel Macron restated the EU's position at the weekend, saying that "if those three points are not clarified, then we cannot move forward on the rest."