Falklands' deminers welcomed and ready to begin the next phase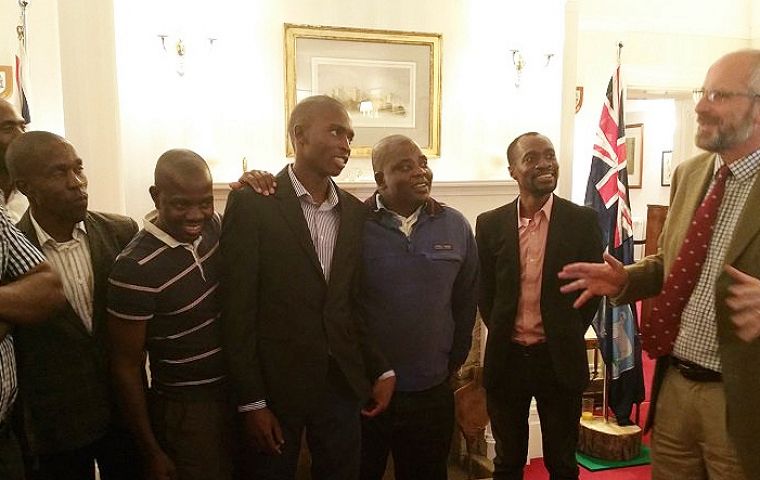 The BACTEC demining team was welcomed back to the Falkland Islands with a reception last Tuesday evening, hosted by the recently arrived Governor Nigel Phillips at Government House.
MLA Michael Poole said at Legislative Assembly on Thursday that the Foreign and Commonwealth Office (FCO) had recently shared the statement of requirement document for the next phase of demining work which will be phase 5B.
He said the remainder of Phase 5A is due to run over this current summer, and 5B is the work that will run from October 1, 2018 to March 31, 2020.
"It is hoped that Phase 5B will be the last demining work in the Islands, however that will depend on how the work programme goes. The work will be carried out to the same high standard as currently and will see those sensitive sites that required environmental impact assessments being cleared," said MLA Poole.
He added that the post clearance management of those sites will be the subject of a paper to Executive Council, "before the year is out."
However not all was good news: BACTEC Project Manager Julius Unsing said that a veteran members of the team, Emmanuel Shiri, sadly passed away in Zimbabwe on September 26 after a short and sudden illness.
Emmanuel was due to return to the Falkland Islands to continue with the land release project which he had been a member of since January 2015.
Mr Unsing said he was a bright hardworking and happy young man who participated in many community events, including the Stanley Marathon.
"He was a well-respected member of our team who will be sadly missed by us all. Our sincere condolences go out to his wife and family back in Zimbabwe," said Mr Unsing. (Penguin News).-