Catalonia wants "a new understanding with the Spanish state"; EC supports Rajoy, an "internal matter"
Monday, October 2nd 2017 - 18:28 UTC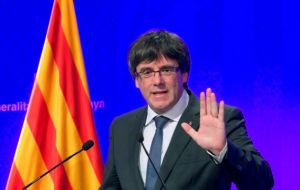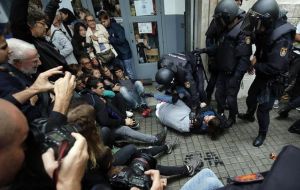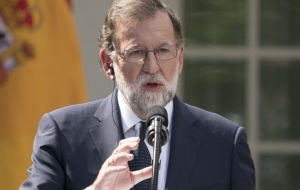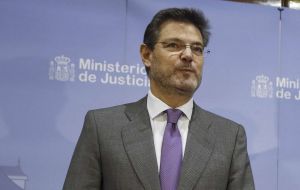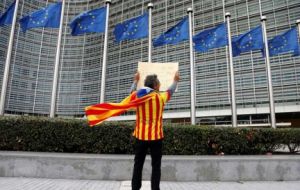 Catalan President Carles Puigdemont has said he is not planning a "traumatic" split with Spain, after a disputed independence referendum on Sunday. He said he wanted a new understanding with the central government in Madrid.
Catalan officials say voters overwhelmingly backed secession. Madrid has warned it could suspend autonomy of the wealthy north-eastern region. Spain's top court banned the vote and almost 900 people were hurt as Spanish police tried to stop it going ahead.
Officers from the national police and paramilitary Civil Guard seized ballot papers and boxes at a number of polling stations. Thirty-three police officers were injured on Sunday, Catalan medical officials said
More than 2.2 million people were reported to have voted, according to Catalan authorities, out of 5.3 million registered voters. Just under 90% of those who voted backed independence, they said.
A Catalan spokesman said more than 750,000 votes could not be counted because polling stations were closed and urns were confiscated. Turnout was put at 42.3%.
At a news conference on Monday, Mr Puigdemont said: "We don't want a traumatic break... We want a new understanding with the Spanish state".
Mr Puigdemont, who earlier said Catalonia had won the right to statehood and the door was now open to a unilateral declaration of independence, said he had had no contact with the government in Madrid led by Prime Minister Mariano Rajoy.
The Catalan leader also announced that he was setting up a commission to investigate Sunday's violence and was taking legal action against national police. He also appealed for international mediation to help solve the growing crisis.
This Monday the Spanish prime minister was expected to hold urgent talks with Pedro Sanchez, the leader of the main opposition Socialist party, as well as Albert Rivera, the head of the centrist Ciudadanos party.
Meanwhile, Spain's justice minister warned that any declaration of independence could lead to article 155 of the country's constitution being invoked, which allows the national government to intervene in the running of an autonomous region.
"We are not here to divide Spaniards... but if someone tries to declare independence on behalf of a part of Spain's territory, that cannot be done because it is beyond their powers," said Rafael Catalá.
Meanwhile, the European Commission described the crisis as "an internal matter" for Spain, that has to be dealt with in line with the constitutional order.
"We trust the leadership of Prime Minister Mariano Rajoy to manage this difficult process," it said in a statement, urging all relevant players to move from confrontation to dialogue.
The Catalan police - the Mossos d'Esquadra - have been placed under Madrid's control. However, witnesses said they showed little inclination to use force on protesters.
Barcelona Mayor Ada Colau, who voted blank on Sunday, condemned police actions against the region's "defenseless" population, but Spain's Deputy Prime Minister Soraya Saenz de Santamaria said police had "acted with professionalism and in a proportionate way".
Large crowds of independence supporters gathered in the centre of the regional capital Barcelona on Sunday evening, waving flags and singing the Catalan anthem. Anti-independence protesters have also held rallies in Barcelona and other Spanish cities.