Falklands' budget estimated deficit, turns into a strong surplus at the end of the financial year
Monday, October 2nd 2017 - 19:56 UTC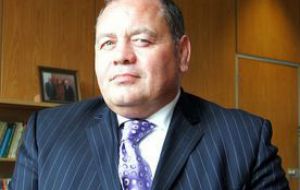 The Falkland Islands budget performance at the end of the financial year in June will show a considerable surplus, far from the £2 million deficit estimate, according to the government's Head of Finance, Andrew Francis.
At the final Standing Finance Committee of this Assembly, Francis told Members of Legislative Assembly that instead of a budgeted deficit of around £2 million, the financial outturn for the year ending last June, was more likely to be a surplus of over £20 million.
Francis explained that this was largely due to unexpected large Corporation Tax receipts from fishing companies, as well as favorable fishing license fees, and a strong investment performance in the latter part of the year.
As much of the tax was received in July, this will also impact the projected outturn for the 2017/18 financial year, underlined the FIG Head of Finance.
In relates news the Legislative Assembly was also confirmed by Chief Executive Barry Rowland that FIG intends to design all new buildings with long-term energy efficiency principles.
"This is the case for the new training centre building and Older and Vulnerable Person's Unit", said CEO Rowland.
He added that a budget of £50,000.00 was approved in the 17/18 budget as a part of a 'spend to save' program to improve the energy efficiency standards of existing FIG buildings.
On the supply side, overall the Falklands are very advanced in alternative energies taking advantage of the South Atlantic windy climate. The wind resource from turbines in a good day can generate up to 40% of the Falklands power demand. (Penguin News)