Madness in Las Vegas: "Lone wolf" kills and injures 580; Trump calls it "an act of pure evil"
Monday, October 2nd 2017 - 17:33 UTC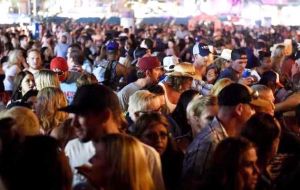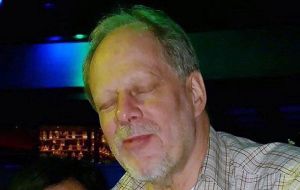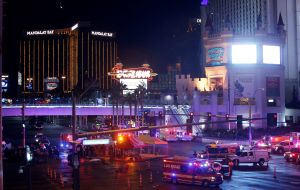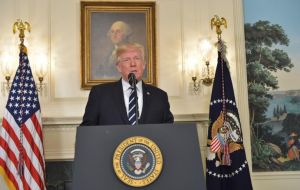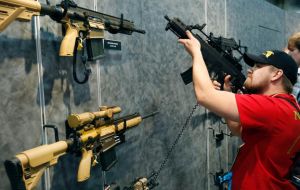 At least 58 people have been killed and more than five hundreds injured in a mass shooting at a Las Vegas concert. A gunman, named as 64-year-old Nevada resident Stephen Paddock, opened fire from the 32nd floor of the Mandalay Bay Hotel towards an open-air music festival attended by 22,000.
He killed himself as police stormed the room where 10 guns were found. Investigators have found no link to international terrorism, despite a claim from so-called Islamic State.
FBI Special Agent Aaron Rouse told a news conference: "We have determined at this point no connection to an international terrorist organization." Islamic State (IS) had claimed to be behind the attack, saying that Paddock had converted to Islam some months ago. But the group provided no evidence for this and has made unsubstantiated claims in the past.
In an address from the White House, President Donald Trump described the attack as "pure evil". He praised the efforts of the emergency services, saying their "miraculous" speed saved lives, and announced he would be visiting Las Vegas on Wednesday.
The attack is the worst mass shooting in recent US history.
Paddock's motives remain unclear. Las Vegas Sheriff Joe Lombardo described the shooting as a "lone wolf" attack. "We have no idea what his belief system was," he said.
A police statement said the shooting began at 22:08 local time on Sunday (05:08 GMT on Monday). Paddock came from the small town of Mesquite, some 100 km north-east of Las Vegas, and had resided in the hotel since 28 September.
Police in Mesquite have searched his premises and recovered a number of weapons. But they say he had not crossed paths with the police in the past. A second property has also been searched.
Las Vegas police say the number of people injured now stands at 515. Among those killed was an off-duty police officer. Earlier, police announced they were seeking a woman, Marilou Danley, in connection with the shooting.
In his latest update, Sheriff Lombardo said she had now been located outside the United States and was not thought to have played any role. Marilou Danley is believed to have lived with Paddock, and Sheriff Lombardo said he used some of her identity documents to check in to the hotel.
Witnesses reported that hundreds of shots were fired. Hundreds of people fled the scene and the sound of what appeared to be prolonged automatic gunfire could be heard on videos posted on social media.
Many hotels on the Las Vegas strip close to the scene remained on police lockdown and parts of Las Vegas Boulevard were shut. People sheltered in hotels, restaurants and at Las Vegas McCarran airport. The country music festival had been taking place since Friday at several hotels on the Las Vegas strip.
Singer Jason Aldean, who was rushed off stage when the shooting started, shared on Instagram that he was safe but heartbroken and did not know what to say.
"Tonight has been beyond horrific," he wrote. "It hurts my heart that this would happen to anyone who was just coming out to enjoy what should have been a fun night."
Nevada has some of the least stringent gun laws in the United States. People are allowed to carry weapons and do not have to register themselves as a gun-owner.
A somber President Trump mourned the victims of the Las Vegas attack and called it "an act of pure evil" during brief remarks at the White House late Monday morning.
Speaking directly from a prepared statement, the president reached for unity and struck a religious tone that is unusual for Trump, though more common when he reads prepared remarks. He ordered flags around the nation lowered to half-staff, and said he would travel to Las Vegas on Wednesday. Trump neither offered new information nor speculated on the motivation of the shooter, and he did not discuss the political or policy ramifications of the attack.
"Hundreds of our fellow citizens are now mourning the sudden loss of a loved one, a parent, a child, a brother, or sister," Trump said. "We cannot fathom their pain, we cannot imagine their loss. To the families of the victims, we are praying for you and we are here for you, and we ask God to help see you through this very dark period. Scripture teaches us the Lord is close to the brokenhearted and saves those who are crushed in spirit. We seek comfort in those words, for we know that God lives in the hearts of those who grieve."