UK reaffirms commitment to Gibraltar at the Rock's reception in Manchester
Monday, October 2nd 2017 - 10:21 UTC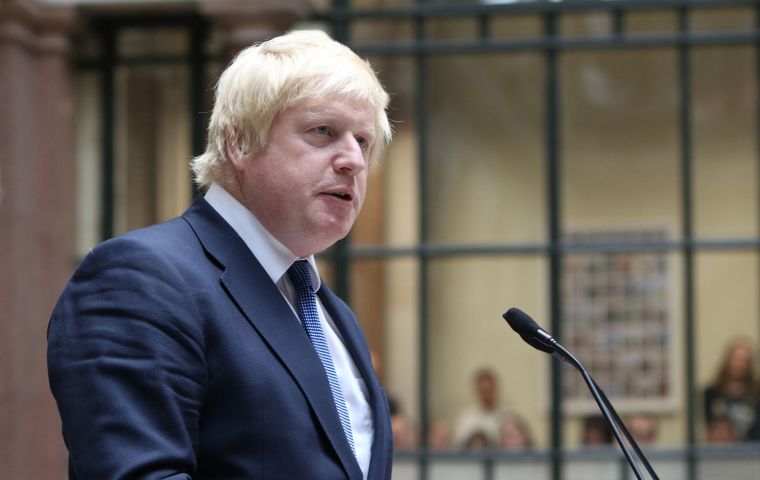 Britain's commitment to upholding Gibraltar's British sovereignty and its right to self determination is as "immoveable as the Pillars of Hercules themselves", Foreign Secretary Boris Johnson said Sunday night at the Gibraltar reception on the sidelines of the Conservative party conference in Manchester.
"That double lock is there for the people of Gibraltar," Boris Johnson said. "It remains absolutely fixed and immoveable as the Pillars of Hercules themselves, the Rock of Gibraltar and…Djebel Must on the other side."
"We will defend this Rock and we will defend the principle of democracy, because that fundamentally is what it is all about," he said. "This isn't about the Treaty of Utrecht, this is about the right of people to determine their own future."
Boris Johnson said the UK would defend not just Gibraltar's right to self determination, but its economy too. The Foreign Secretary also said he was certain the UK would be able to ensure that Brexit for the UK, Gibraltar and Spain.
"The relationship and the partnership that exists between us and Gibraltar is absolutely vital," Johnson, noting the logistical support provided by the Rock to HMS Ocean as it deployed recently to the Caribbean on a humanitarian mission.
Gibraltar's Chief Minister Fabian Picardo addressing a packed room at the Gibraltar reception said that Britain has responded "with genuine and realistic reassurance" to Gibraltar's fears about its post-Brexit future. He added that the British Government across all its ministries was working in concert with the Gibraltar Government to ensure the Rock's continued economic prosperity once the UK leaves the EU.
"Conservatives – whether they were advocates of remain or leave in the referendum – have stood by us as we look to the challenges that the decision to leave the European Union set before us," Mr. Picardo said. "And our partnership will deliver a successful Brexit for Gibraltar, a prosperous Brexit for Gibraltar."
Picardo said he also believed that Spain would understand that the UK and Gibraltar were seeking a strong future relationship based on mutual respect and commercial benefit for all sides.
"We continue to seek friendship from our Spanish neighbors and all our European partners," he told guests at the reception. "But we will never compromise any aspect of sovereignty, jurisdiction or control in exchange for any commercial advantage."