Uruguay foreign minister will meet UK's Boris Johnson next Monday in London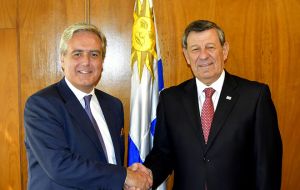 Uruguay's foreign minister Rodolfo Nin Novoa announced he will be meeting foreign secretary Boris Johnson next Monday, in London to address Brexit consequences and Uruguay's interest is reaching a trade agreement with the UK. Although both sides are interested in such an understanding, this will be an initial contact, "the strong intention which will have to be followed up by detailed negotiations", points out the Uruguayan government ministry.
"The UK is in a divorce process with the European Union, which is expected to take over two years. When over, it will be involved in further discussions for a single market with the EU and later fully address an accord with Mercosur", said Nin Novoa during a ceremony at the ministry.
Last week Nin Novoa received in his office a special UK envoy, Under Secretary of State for International Trade Mark Garnier, precisely to discuss bilateral trade, diplomatic issues, and cooperation.
"We are still far from discussing details of a potential agreement, although we did address guidelines and most important we coincided in the intention", explained Nin Novoa who added these issues will be part of the agenda to address with foreign secretary Boris Johnson.
As to the current negotiations between the EU and Mercosur, Garnier revealed that this week a round of negotiations will take ´place in Brasilia, and specifically mentioned expectations regarding beef and ethanol, two highly sensitive issues for both sides. Garnier admitted that some EU member states have strong objections relative to these products, but there are also others, probably in larger number, which hold an overall positive and favorable stance.