JetSMART offers ultra low rates for Santiago/Punta Arenas beginning 18 December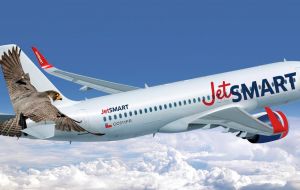 JetSMART, Chile's ultra low cost airline is planning to link Santiago with Punta Arenas as of next December, charging some 8.000 Chilean Pesos for each leg, plus boarding taxes, 15.500 Pesos, according to the company's CEO Estuardo Ortiz. The exchange rate is approx Pesos 600 to the US dollar.
"Since we started business in Chile we have received thousands of petitions from our clients in Tarapacá and Magallanes (north and south Chile) to reach those destinations, and this will the case: on 18 December for Punta Arenas and Iquique on 20 December, with very convenient rates", revealed Ortiz.
Tickets can be purchased at promotional prices for the launching Santiago to Punta Arenas, 8.000 Pesos plus boarding taxes, totaling 15.406 Pesos on www.jetsmart.com. "And in a not too distant future the company is also planning to keep adding destinations, and helping connectivity in Chile with a flight most probably to Puerto Natales", also in Magallanes region next to the world famous Torres del Paine national park..
JetSMART took off last July and has already transported over 67.000 passengers, and in August the number reached 70.000. The company estimates that the dynamics of the Chilean commercial air market has been boosted by ticket prices that on average have fallen 35%.
The company so far has three Airbus A320, but next year is programmed to incorporate a further six units, totaling a fleet of nine aircraft, said CEO Ortiz. He added the A320 has sufficient autonomy to reach comfortably all South American and Central American capitals in direct flights with no calls.