Macri's candidate leading in the crucial Buenos Aires province October midterm election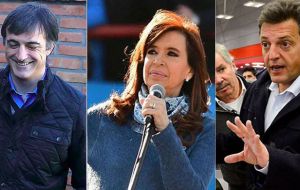 Eleven public opinion polls done during the last four weeks, coincide that in the most important electoral circuit in Argentina, (40% of votes), for the coming midterm October elections, the candidate of the ruling coalition, "Let's Change", former Education minister Esteban Bullrich is leading ahead of ex president Cristina Fernandez, running for her "United Citizens".

The average difference in favor of Bullrich in the crucial province of Buenos Aires, rates between 1.5 and 5.7 points. If these projections remain steady the "Let's Change" candidate of president Mauricio Macri would reach 38.26% of total votes; Cristina, 35.17%, while Sergio Massa would be dropping to 11% and Florencio Randazzo 4.5% and the only left wing hopeful, 3.12%.

Following the tight result of August primaries when Cristina Fernandez finally received 20.000 votes more than Bullrich, the polarization of the leading candidates is absorbing votes from the other hopefuls with not much of a chance, Massa and Randazzo. And if next 22 October, Cristina fails to win a Senate seat representing the province of Buenos Aires it will be the third time she loses an election, following on 2013 and 2015.

In the opinion poll with a greater vote intention, Bullrich managed 39.8%, but in six others the result is above 38%. However his worst rating is from late August, with the first of eleven polls, and shows a 35.2% support. Since then his percentage has been gradually but steadily increasing.

Vote intention for Cristina Fernandez in the eleven polls has a floor of 32.5%, and a ceiling of 36.4%. However even when the average difference in favor of Bullrich averages 3.09 percentage points, the average of each poll is 2.43 percentage points.

Finally vote intention plus error margins and polarization indicates that the three Senate seats for grabs in representation of the province of Buenos Aires will be shared in the October midterm election between "Let's Change" and "Citizens' United", (most probably two and one) with no chance for the other groupings competing. The runner up of the two main candidates is Sergio Massa, in the eleven opinion polls analyzed.