Falklands shares concerns on high seas catches as a challenge to stock assessment
Friday, October 6th 2017 - 20:21 UTC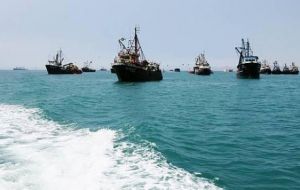 Fishing on the high seas (*) can present a serious problem for fisheries management, but the Falkland Islands Senior Fisheries Scientist Alexander (Sasha) Arkhipkin has been making a heavy contribution to international collaborations to attempt to deal with some of that impact.
Speaking to Penguin News this week Senior Fisheries Scientist Alexander (Sasha) Arkhipkin from the FIG Fisheries Department explained that in areas where no regional fisheries management organisation exists, "it is often largely unregulated with very limited information on the number of fishing vessels as well as on the amount of catch, species composition and sizes."
The Southwest Atlantic is such an example where every year more than 250 jiggers and trawlers take hundreds of thousands of tons of marine resources including Illex and Loligo squid, hake and rock cod. The existence of these largely unregulated catches places constraints on stock assessments of straddling stocks (shared between the high seas and an EEZ) and increases the risk of overfishing he emphasised.
Jumbo squid Dosidicus gigas is one of the largest and most important commercial marine resources of Mexico, Peru and Chile in the Pacific Ocean. Recently, numbers of foreign vessels fishing for this squid on the high seas of the Eastern Pacific increased to almost 300 jiggers.
Growing catches by this fleet raised serious concerns to fisheries management institutions in these countries.
In the last week of September 2017, the Peruvian Sea Institute (Instituto del Mar del Peru, IMARPE) organized an international workshop in Lima and invited a board of experts to advise on stock assessment methods and techniques applicable to jumbo squid.
Dr Arkhipkin was among the invitees. He made a keynote speech on squid life cycles and their implications to stock management at the beginning of the workshop that was attended by the Vice-Minister of Fisheries and Aquaculture of Peru and Director of IMARPE.
Five days of hard work, fruitful arguments and discussions produced a set of recommendations on acoustic survey designs, stock structure analysis and stock assessment techniques that will be implemented by IMARPE to improve the knowledge of squid life cycles, establish international collaboration and reveal possible impact of the high seas fisheries on squid stocks within their EEZ. (Penguin News).-
(*) Outside Exclusive Economic Zones, EEZ