Reminiscences of the Falklands' war triggered by the Argentina/Peru Russia 2018 qualifier
Saturday, October 7th 2017 - 10:03 UTC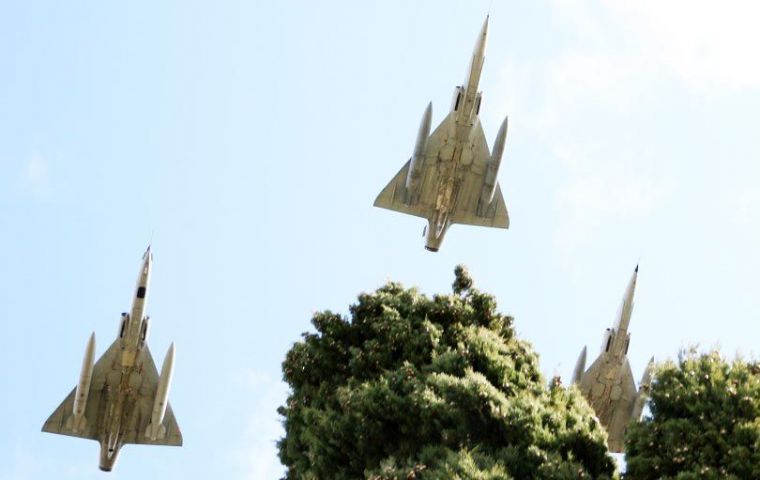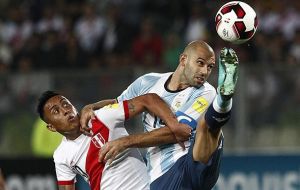 The building up to the South American qualifier for the 2018 World Cup in Russia, between Argentina and Peru, which was played in Buenos Aires on Thursday evening, resurfaced the strong political and military alliance of the two countries, particularly referred to recent events such as the Falklands war in 1982.
Despite the football rivalry, during much of Wednesday and Thursday twitter messages demanded Argentine followers show respect for the Peruvian side and avoid any booing, whistling or hostility towards the Peruvian national hymn, (a common practice), and this was supported recalling the generous weapons and logistics contribution from Peru to Argentina during the military occupation of the Falklands.
All started on 2 May 1982 when then Peruvian president Fernando Belaúnde Terry received and met in Lima three envoys from dictator General Leopoldo Galtieri. The purpose of the visit was to request military hardware to fight the UK Task Force.
Peru complied except for the Sukhoi fighters, the only ones in South America at the time, and for naval units since they would be easily detected by the Chileans who non-officially sided with the UK.
Apparently the visitors were after fighter jets, submarines, surface vessels, missiles among other military hardware. The Peruvians immediately provided ten Mirages fighters which had the Argentine colors painted and were flown to Tandil avoiding Chilean radar detection.
"We also sent air-air and surface-air missiles, extra fuel tanks for the Mirages to give them more time over the Islands", according to Peruvian officials interviewed in the Lima media. Peru also extended signed blank purchase documents to be used for Israel arms, according to a book written by Argentine reporter Hernan Dobry, "The rabbi in Malvinas".
An unparalleled gesture, since Peru only received a symbolic payment from Argentina for the Mirage fighters, according to Dobry. But in Jan/Feb 1995, Peru and Ecuador were involved in a non declared frontier war, and although Argentina was a guarantor of a Peace, Friendship and Limits Protocol, signed in Rio do Janeiro decades before, the administration of ex president Carlos Menem authorized the secret sale of arms to Ecuador and Croatia.
At the time Menem was a close ally of ex president Bill Clinton and acted on his suggestion, since the White House was constrained to act in the Balkans.
As expected the whole smuggling operation, not much later, surfaced and was shamefully exposed. Lima/Buenos Aires relations were strained for some time until the Argentines apologized, on several occasions, for their misconduct towards their longstanding ally. Natural allies fearful of their rival or enemy neighbor depending on the history period.
By the way the match was a no-goal draw, and if Argentina, with its top stars including Leonel Messi, does not win the last qualifier of the South America round, it could very well miss the Russia 2018 World Cup.