Giant meatpacker owners involved in insider trading could lose plea bargain deal with prosecutors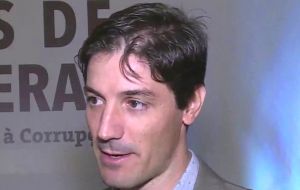 Brazil's police investigation into insider trading by the owners of the world's largest meatpacker JBS SA has found that they made a profit by taking financial positions before details of their plea bargain deal with prosecutors became public, the head of the probe said on Tuesday.
Police chief Edson Garutti, told Globo News that brothers Joesley and Wesley Batista knew they had information that would impact the market and profited with trades with stocks and foreign currency before details of the plea deal and leniency agreement for the company were made public, on May 17.
The Batista brothers saved as much as 138 million reais (US$44 million) by selling JBS stock before its 9.7% fall on the following day. JBS also bought dollar future contracts. The dollar rose 8.2% on the day after the details of the plea deal were made public.
In his plea bargain testimony, Joesley Batista accused President Michel Temer of endorsing bribes the company paid to politicians, setting off a crisis that led to corruption charges against the president. The police report was handed to federal prosecutors, who will decide whether to file charges against the Batistas.
Federal prosecutors on Monday opened an investigation into whether the holding company J&F Investimentos SA, which manages the fortune of the Batista family, including a controlling stake in JBS SA, violated the terms of the leniency deal.
J&F Investimentos agreed in May to pay a record fine of 10.3 billion reais (US$3.2 billion) for its involvement in corruption.