Political killing of investigative reporter and government critic in Malta
Tuesday, October 17th 2017 - 11:23 UTC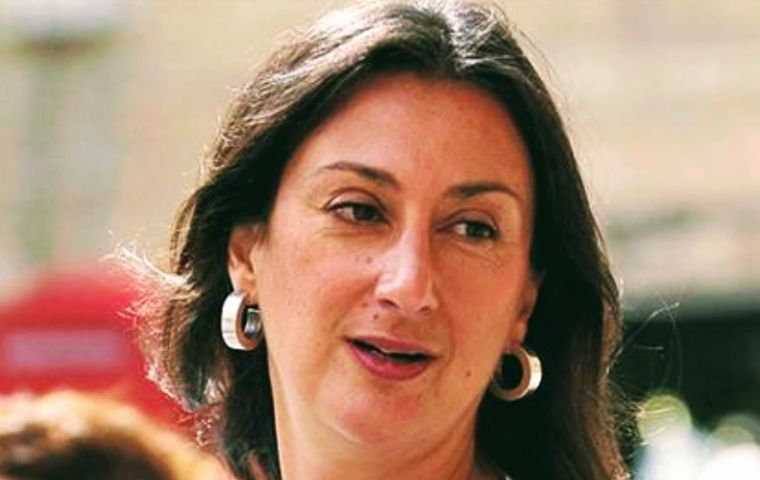 A prominent blogger in the Republic of Malta, who had accused the island's government of corruption, has died in a car bomb attack, according to police. Daphne Caruana Galizia, 53, was reportedly killed when the car she was driving exploded shortly after she left her home in Bidnija, near Mosta.
Local media say one of her sons heard the blast and rushed outside. PM Joseph Muscat, whom Caruana Galizia accused of wrongdoing earlier this year, denounced the killing.
"I condemn without reservations this barbaric attack on a person and on the freedom of expression in our country," he said in a televised statement. "Everyone knows Ms Caruana Galizia was a harsh critic of mine, both politically and personally, as she was for others too."
But he stressed there could be "no justification... in any way" for such action. "I will not rest before justice is done."
On Monday evening, thousands of people attended a candlelit vigil in the resort town of Sliema.
Malta Television reported that Caruana Galizia had filed a complaint to the police two weeks ago to say she had received threats but gave no further information. Police have opened a murder inquiry.
Newspaper reports said the explosion had left debris from the rental car she was driving strewn across the road and in a nearby field.
Caruana Galizia's death comes four months after Mr. Muscat Labor party won an election he called early because of the blogger's allegations linking him and his wife to the Panama Papers scandal.
The couple denied claims that they had used secret offshore bank accounts to hide payments from Azerbaijan's ruling family.
Caruana Galizia's popular blog had also targeted opposition politicians, calling the country's political situation "desperate" in her final post.
A spokeswoman for the prime minister's office told the BBC that although there were rumors the attack could be politically motivated, this would be jumping to conclusions. But no lines of inquiry would be ruled out.
Malta has asked for international help - including the FBI in the US - to find the perpetrator, the spokeswoman said. Meanwhile, Caruana Galizia's family has requested that the magistrate in charge of the investigation be replaced, the Malta Independent reports.
It said the current magistrate had on a number of occasions been the subject of criticism by Caruana Galizia.