Political spring ahead for Macri, if opinion polls results are confirmed on Sunday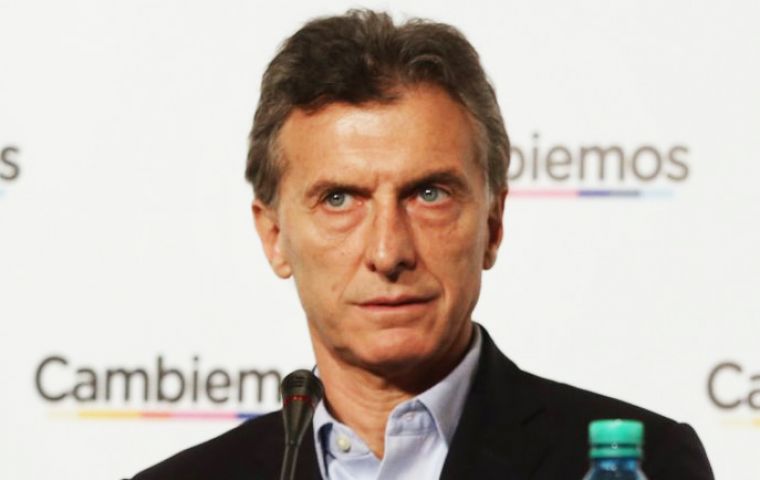 Argentine president Mauricio Macri seems to be in the threshold of a new political spring following on the expected results of next Sunday's midterm election when a third of the Senate seats and half the Lower House, plus several governorships will be on dispute.
In effect Macri can expect a flourishing of governors and lawmakers, and why not some union leaders, who are willing to agree on governance and advance with reforms, as long as Kirchnerism, and Cristina Fernandez, definitively become politically residual.
Not only opinion polls are smiling for Macri's coalition, and prospective allies, but the economy is also picking up, with consumer confidence and mortgage loans improving steadily, and credit rating agencies forecasting an encouraging future.
If polls are correct, Macri's Let's Change coalition will increase its Lower House representation from 81 to almost 105 out of a total of 257 members. Likewise its 15 Senators should increase to 24, or a third of the Upper House, which means Macri will be needing less allies to support his reforms.
Another interesting factor is if these numbers are confirmed the Macri administration should be able to support on its own any Executive veto to legislation. Under the Argentine constitution, two thirds of the national assembly are needed to lift an Executive veto.
However there are limits to how far Macri can force his way, since opposition Peronist governors willing to vote for a legislative agenda, will also have much in mind their personal and party aspirations for the 2019 presidential bid, when Macri will attempt reelection for another four years.
In this scenario the so-called republican Peronists are also determined to shove aside ex president Cristina Fernandez de Kirchner, who most certainly will be elected Senator for the province of Buenos Aires under the 2+1 electoral system for the three benches. Furthermore they will not accept her leadership or support her 2019 aspirations.
In effect the Peronist leaders in the Senate and Lower House, Angel Pichetto and Diego Bossio have anticipated they are willing to a major debate on labor and fiscal reforms, two areas that the Macri administration considers vital to improve competitiveness and efficiency of the Argentine economy. But this will be a long tough battle for a community with a long entrenched corporatist soul.