The Fed started to reduce its US$4 trillion boost portfolio from the financial crisis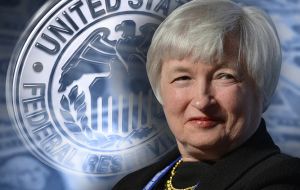 The Federal Reserve has started to run down some of the investments it made to boost the US economy after the financial crisis. The Fed holds a US$4.2trn portfolio of US Treasury bonds and mortgage-backed securities, and it will initially cut up to US$10bn each month from the amount it reinvests.
It also said it will hold benchmark interest rates steady, and signaled a rate hike by the end of 2017. The move to unwind the portfolio the Fed acquired during its crisis-era bond-buying programs was widely anticipated.
Analysts say the release of billions in treasuries and mortgage-backed securities back into the market could lead long-term borrowing costs to rise modestly. But Federal Reserve Chair Janet Yellen said she believes the US economy is ready for less economic stimulus.
"We feel the economy is performing well and we have confidence in the outlook," Ms Yellen said. Fed officials are predicting economic growth of 2.4% in 2017, a stronger expansion than they anticipated in June.
Ms Yellen said the hardship caused Hurricanes Harvey, Irma and Maria may hurt growth in coming months but she does not expect it to "materially alter the course of the national economy in the medium term". She insisted "growth likely will bounce back".
Ms Yellen said officials were watching inflation closely. This year, it has lagged below the Fed's 2% target and the forecast now suggests it will continue to do so in 2018. However the Fed governor said she thinks the sluggish inflation rate is the result of temporary factors including lower cell phone costs that don't reflect underlying economic trends.
But she acknowledged some uncertainty: "Our understanding of the forces driving inflation isn't perfect," she said.
Despite the lagging inflation, a majority of officials see room for another rise in the key interest rate target set by the Federal Reserve before the end of the year, according to the economic forecast released after Wednesday's meeting.