Some thoughts about the 9 November Falklands' general election
Friday, October 20th 2017 - 05:18 UTC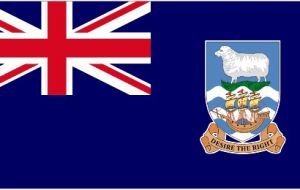 By John Fowler - At the time of going to press, so far sixteen brave or foolhardy souls have declared their candidature for the General Election. This is one more than in 2013 and may be the most ever. With an average age of less than fifty years this group is almost certainly the youngest. Gone, it would seem, are the days when only the wealthy, retired, unemployed, or possibly unemployable old were available to stand.
Despite Argentine government assertions to the contrary, long gone are the old colonial days when the Governor could nominate members of council; these days the British Government has nothing to do with whom Falkland Islanders choose to form their own government. Long gone also are the days of what were sometimes mischievously described as the "cowboy councils." Then the majority of the members, whether elected or nominated, tended to be farm owners or managers. In this year's list there are only two farming candidates.
In the old colonial days, members of the Falkland Islands Legislative and Executive councils probably tended towards a form of staunch conservatism, but the responses of candidates to a short Penguin News questionnaire indicate that this is no longer the case.
Asked how they might describe their position on the political spectrum, one of the twelve candidates who responded described him or herself as "left," and five as "centre-left." Only one described him or herself as "centre right" and two as "centre" while three refused to label themselves in this way. It does not look as if the Falklands is going to be part of any kind of global shift towards right-wing extremism in the near.
A tendency towards social and liberal concerns was also in evidence in the candidates' preferred portfolio choices. Most popular first choice was the Policy and Public Relations portfolio though Education was cited as being one of their two most preferred by half the candidates who responded. Health and Public Protection, Trade and Industry, Public Works and Natural Resources all figured in candidates' first and second choices.
There were no takers for Central Services or Treasury, Finance and Regulatory Services, though at least one candidate pledged to take on any portfolio with enthusiasm and dedication.
Asked what priorities should be given to the measures suggested in the up-dated Falkland Islands Economic Development Strategy and Action Plan, prospective candidates perhaps sensibly, made no dramatic promises. There was general agreement over the need to close skill gaps, increase population and diversify the economy and the need to make improvements to the Islands' infrastructure.
New port facilities, a new power station, better external communications and more external flights were all mentioned as being essential for economic expansion by most candidates, but again, perhaps wisely, details of how all these worthy and interlinked objectives were to be achieved were thin on the ground.
I must stress that as I write I do not have the responses of all the prospective candidates before me. Next week we shall have their manifestos and may know more, but so far it looks as if none of the new candidates are in possession of magic powers or divine inspiration.
Instead, they seem largely committed to the sensible pursuit of policy paths already well-trodden by their predecessors. In the case of the four former MLAs who are standing again, we can make a reasonably informed judgment based on their past record. With the new candidates, making a choice on the ballot paper is not so clear cut.
We do not have political parties in the Falklands so MLAs do not have to follow any given party line and we, the voters, have no way of knowing what other influences may work on them over the four years of their term in office. In the absence of a crystal ball or a prophetic octopus, we have to use other criteria. In a small community like ours, there is a danger that these may include family loyalty, friendship, personal prejudices of all kinds, or just what we have picked up about a candidate in the pub or on Facebook.
With MLAs' workload ever increasing in recent years, a lot is demanded of our representatives. Voters should also take the electoral process seriously even if that involves a bit more work than listening to gossip. Next week each confirmed candidate will have 500 words in this paper containing their ideas about how they will represent you over the next four years. Please read the manifestos carefully and with an open mind. It is important that you choose the right candidates; your future will be in their hands and the decisions they take on your behalf may have consequences for you way beyond the life of the next the Legislative Assembly. (Penguin News)