UK government's plans for Brexit are in "paralysis", claims Labour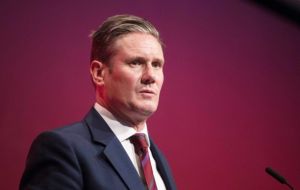 The UK Government's plans for Brexit are "in paralysis", Labour claimed amid speculation crucial legislation will be delayed again. Shadow Brexit secretary Sir Keir Starmer said there was "chaos at the heart of Government" over the approach to leaving the European Union.
But the Brexit department said it was "completely false" to suggest the European Union (Withdrawal) Bill had been pushed back, because no formal date for its return to the Commons had been fixed.
The so-called repeal bill, which will put existing EU regulations on the domestic statute book, cleared its first Commons hurdle on September 11 but has not been debated since then.
Ahead of detailed scrutiny in the committee stage, MPs have tabled some 300 amendments and 54 new clauses, potentially causing headaches for Theresa May's whips given that the precarious Commons majority secured with the help of the DUP would be vulnerable to any Tory revolt.
"The negotiations are in deadlock and now a crucial piece of legislation is facing further delay" Sir Keir said. "There is chaos at the heart of Government. Theresa May cannot unite her Cabinet or her party behind this deeply-flawed Bill."
"There are now serious questions about whether the Prime Minister can deliver Brexit."
MPs are due to spend eight days debating the repeal bill at committee stage, which will then undergo further scrutiny in the Commons and the Lords before it is approved.
A Department for Exiting the European Union spokesman said: "The Withdrawal Bill is an essential piece of legislation in the national interest."
"It is completely false to suggest that there has been a delay to the Bill as it has yet to be scheduled to enter committee stage."