Catalonia customers withdrawing symbolic sums of money from banks leaving the region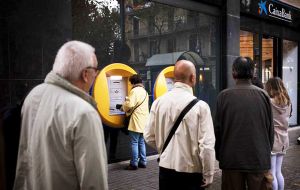 Bank customers in Catalonia are withdrawing symbolic amounts of money from financial institutions that have moved their official headquarters to other locations in Spain amid a political crisis over the region's independence bid.
Pro-independence umbrella group Crida Democracia called on consumers late on Thursday to put pressure on banks that made the decision. By Friday morning, dozens of people were lining up at a CaixaBank branch in central Barcelona, most of them withdrawing 150 or 160 Euros from ATMs.
The amounts were closest to 155, in reference to the Spanish constitutional article with which the central government plans to revoke some of Catalonia's autonomous powers to prevent regional politicians from pushing ahead with secession.
CaixaBank and Banco Sabadell, the largest Catalan lenders, are among hundreds of financial institutions and businesses that have moved their official registration out of Catalonia.
The crisis over Catalonia's quest for independence escalated as Spain's central government prepared for the unprecedented step of stripping the wealthy region of some of its self-governing powers after its leader refused to abandon secession.
Spain's government has called a special Cabinet session for Saturday when it said it would set in motion Article 155 of the Spanish Constitution, which allows for central authorities to take over all or some of the powers of any of the country's 17 autonomous regions.