MSC Cruises has organized its second world cruise, setting sail in 2020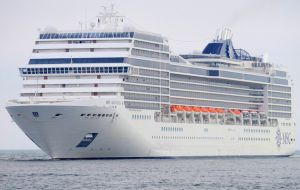 MSC Cruises, the Swiss-based world's largest privately-owned cruise line and market leader in Europe and South America, announced the opening of sales for its second world cruise, setting sail in 2020 on board MSC Magnifica. MSC Voyagers Club members can begin booking today, and all other passengers can book beginning November 23.
The 2020 MSC World Cruise boasts a new itinerary that includes more exotic, bucket-list destinations than ever before, with more than 40 ports of call and 23 countries. With four different embarkation ports and dates to kick off the three-month voyage, travelers can select their ideal starting point for a more customized vacation experience.
Guests will make their travel dreams come true by crossing the globe without ever needing to leave the comfort of their staterooms on board the stunning MSC Magnifica.
"Following the highly successful launch of our first MSC World Cruise last year, due to set to sail in January 2019, we are now delighted to open sales for a new world cruise for 2020 developed to offer guests experiences and destinations that they will never forget," said Gianni Onorato, chief executive officer of MSC Cruises.
Guests embarking from Civitavecchia/Rome, Genoa, Marseille and Barcelona on the 4th, 5th, 6th and 7th of January 2020 respectively will cross five continents on a three-month voyage of discovery to some of the world's most talked-about destinations. Travelers embarking on January 4, 2020 will actually be able to enjoy the ship one day early before official departure on January 5. To offer even more opportunities to explore, eight destinations will include an overnight stay in port, giving guests up to two days to experience the local attractions, cuisine and unique atmosphere.
The 2020 MSC World Cruise will visit 43 destinations in total, many of which are brand new, exotic destinations including, among many others: Ushuaia, Argentina; Rapa Nui / Easter Island; Darwin, Australia; Valparaiso, Chile; Mumbai/Bombay, India; Salam Oman.