Macri will present his government's plan for the next two years, supported on governance accords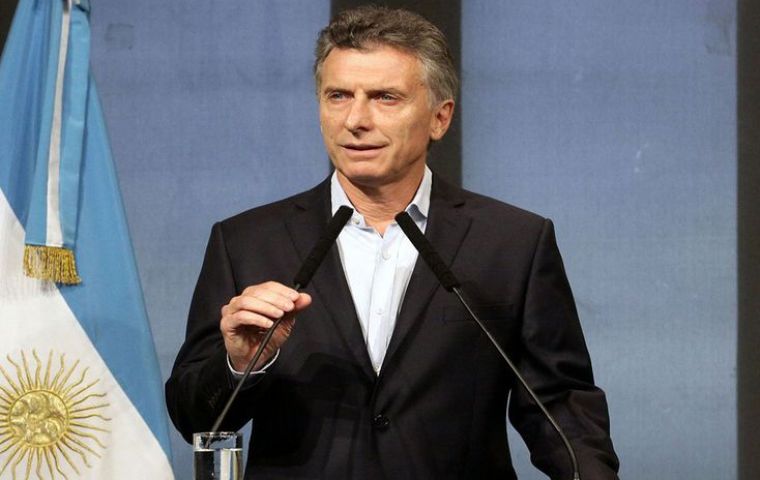 A week after his coalition's sweeping victory in the midterm elections, Argentine president Mauricio Macri will present this Monday the economic and institutional reforms which are to the core of reaching "governance basic accords".
The audience will include business community leaders, governors, union bosses, opposition leaders, members of the Judiciary, academics and religious representatives.
A total 150 guests at the Kirchner Cultural Center will be listening carefully to the government's plans for the next two years and the outline of reforms in crucial sectors of the Argentine economy, according to government sources.
"It will be the presentation of the proposals that will be put forward to promote the necessary consensus on government policies to basically generate jobs, and a sustainable growth of the economy with the clear objective of combating poverty", indicated the sources.
The details had been anticipated last week by Macri to his main Let's Change coalition leaders and incumbent members of Congress.
This Monday's meeting will work on the excellent results for the ruling coalition of the 22 October election, which opened the way for Macri to propose a more ambitious agenda of reforms, given his stronger position in Congress, as of next 10 December. Argentine political analysts agree that Macri after winning the 2015 election, has really taken over power in this midterm election.
Interior minister Rogelio Frigerio said that Macri's proposal will be basic governance agreements, that should be left out of the parties political agenda, with special emphasis on the fiscal balance.
"The proposals are so basic like agreeing on specific issues to ensure sustained growth in time, which we have proved it is possible, and creating jobs" said Frigerio. However he pointed out that the fiscal and tax reforms will not be announced this Monday.
The Interior minister added that the Government has already invited all 23 governors and the head of the Buenos Aires City government to a summit on 9 November to address the fiscal situation of the provinces, regions and the different needs of each district, all of which "will have to be supported by a clear consensus on governance"-