Temer expected to return to work on Tuesday, following prostate surgery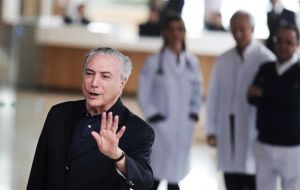 Brazilian President Michel Temer should be discharged today Monday from the Sao Paulo hospital where he had surgery to reduce the size of his prostate, his office said on Saturday. A previously announced meeting on Monday with Bolivian President Evo Morales will be postponed, the Foreign Ministry said.
Temer, 77, spent Saturday night in the hospital in a semi-intensive care unit but has moved out of it to continue recovering before returning to work on Tuesday or Wednesday, his office said.
He had been admitted to an army hospital on Wednesday for tests and treatment after his doctor identified a urinary obstruction that was causing him pain. A biopsy showed a benign growth on the prostate.
On Wednesday, Brazilian lawmakers rejected corruption charges against him, shelving a case that had threatened to oust the center-right leader who investors hope will bring the nation's budget deficit under control. Temer has been struggling to push his economic agenda through Congress as his approval rating has slipped into the single digits amid the corruption charges.
Temer is expected to reshuffle his cabinet in March and likely exclude members of his main allied party after many of its lawmakers turned against him this week. This refers to the Brazilian Social Democracy Party (PSDB), because the majority of the party in the lower house last Wednesday voted to put him on trial over corruption charges.
Anyhow PSDB plans to field its own presidential candidate next year and is expected to quit Temer's coalition of its own accord as the elections draw closer. The planned cabinet changes will take place as ministers have to leave the cabinet by April to run in October elections.
Temer, whose popularity is at rock bottom, has no plans to run for re-election. His centrist Brazilian Democratic Movement Party (PMDB), Brazil's largest, has generally entered governments through coalitions with other parties and rarely fielded its own presidential candidate.