Former Argentine VP Amado Boudou arrested
Friday, November 3rd 2017 - 12:03 UTC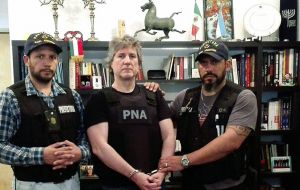 Following orders from Federal Judge Ariel Lijo, Argentine Coast Guard officers placed Cristina Fernandez de Kirchner's second vice president Amado Boudou under arrest early Friday for illicit enrichment.
Judicial authorities found Boudou's wealth to have increased in an unexplainable manner. His friend and business associate José María Núñez Carmona was also arrested, both at their riverside homes in the Puerto Madero area in Buenos Aires, hence the Coast Guard's jurisdiction.
They were both transferred in handcuffs to a court where they were to be questioned later Friday.
Last week, federal prosecutor Jorge Di Lello requested that Boudou justify the origin of $ 80,000, the purchase of an apartment from his ex-girlfriend and the estate of Núñez Carmona.
According to Lijo's brief, Boudou faces three counts of illicit association and money laundering. Boudou is singled out as leader of the illegal organisation, while Núñez Carmona is considered to have been just an one-time organizer.