Brazil becoming main supplier of soybean to China at peak US marketing season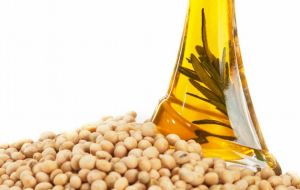 Brazil is expected to win a larger share of China's soybean imports in coming months, hitting U.S. exporters during the peak marketing season for their most valuable farm product as the world grapples with a fifth consecutive bumper crop.
China is expected to buy about five million tons of soybeans from Brazil for the fourth quarter of 2017, double the 2.49 million tons shipped over the same period last year.
For U.S. soybean exporters, the October-December period is crucial, accounting for an average of 53% of calendar year shipments for the past five years, according to U.S. Census Bureau trade data.
China, the top importer of US agricultural goods, ships in more than 60% of the oilseed traded worldwide. Brazil normally has little left for exports by around October, but a record 2016/17 crop of 114.1 million tons means it still has unsold stocks.
Soybeans are the United States' most valuable farm product, with sales of US$22.8bn in 2016 - 17 percent of overall agricultural goods trade for the year.
World soybean production stood at an all time-high at 351.254 million tons in the 2016/17 crop year, with output hitting record highs in three out of the prior four years.
Production is projected at the second highest on record for 2017/18, with the United States on track for a record crop of 120.582 million tons just as the weather in Brazil improves following concerns over dryness.
China's official data shows the last three months of 2017 will be above average for Brazilian soybean arrivals. Between 2010 and 2016, bean arrivals in China from Brazil over the final three months of the year averaged 3.531 million tons.