Brazilian industrial activity reports its best September since 2013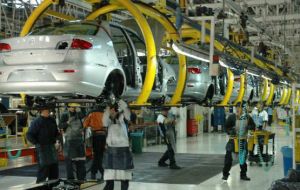 After two years of the most severe recession facing Brazil, economic indicators continue to mark a more positive horizon for the Brazilian economy. Data released by the Brazilian Institute of Geography and Statistics (IBGE) show that the Brazilian industry is heading for a recovery scenario.
In September, domestic industry activity increased by 2.6% over the same period last year. This was the best performance for the month since 2013. With this result, Brazilian industrial production increased 0.4% in the accumulated in 12 months, after 39 months of negative results in the same comparison basis.
In other words, industry is producing more as a result of a greater economic activity and recovering demand from Brazilian consumers that have a benefitted from the fall of interest and inflation.
Compared to September last year, growth increased in all industrial categories, as well as in 18 of the 26 industry segments. There was a rise in the production of durable consumer goods (+ 16.2%), capital goods (+ 5.7%), intermediate goods (+ 1.9%) and semi consumer goods and non-durable (+ 0.1%).
Among the industrial segments, the main advances were recorded in the auto industry sector (+ 20.9%), computer and optical (16.9%), mobile (+ 11%) and oil products and food products (+ 3.6%).