Light aircraft and Land Rovers - a poles apart General Election in the Falkland Islands
Wednesday, November 8th 2017 - 16:10 UTC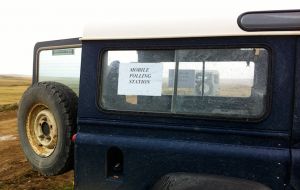 Commitment to democracy is deep seated in the Falkland Islands. The experience of invasion, occupation and liberation in 1982 makes us all acutely aware of the importance of freedom and self-determination, and continues to inspire generations both old and new to value the right to choose our Government.
On November 9th, the 1,484 eligible voters from the 3,200 inhabitants elect a new Legislative Assembly on a four year fixed term. This is the Parliament for the Islands comprising five Members from Stanley and three from Camp (rural areas outside Stanley). As a UK Overseas Territory we are self-governing in all aspects other than Foreign Affairs and Defence.

The Falkland Islands are unique in so many ways, and this includes our governance. There are no political parties and candidates are elected upon their personal merit, rather than party political dogma. Until 2013, the MLAs were part time, but the role is now full time. And whilst MLAs deal with local issues they are also required to hit high on the international scene; representing the Islands at the United Nations, Commonwealth, EU and UK level.
It is heartening to see that nine of the seventeen candidates for 2017 are less than fifty years old. They have been extensively grilled in interviews by our local media, and in open public meetings. Social media has become very prominent in the campaign, with a lively dedicated General Election page on Facebook.
The Falkland Islands Government generated a £23m surplus this year. The economy is reliant on fishing, tourism and agriculture for its main income, with significant windfall contributions from oil exploration. Infrastructure development programmes, such as a deep-water port and the Islands gravel road network are high on the agenda, as are education, healthcare and social development programmes; and of course the stance toward Argentina. There are concerns about the impacts of Brexit, with the majority of fish, meat and wool exports going to Europe, and fears of tariffs on trade.
Voting on Election Day is also unique. Whilst those in the Stanley, Goose Green and Fox Bay communities vote at polling stations, the voters in Camp and outer islands, get mobile ballot boxes, delivered by aircraft and by Land Rovers. The polling places are published in the local newspaper Penguin News and make interesting reading. "Bold Cove, by cattle grid; North Arm, shearing shed; San Carlos, Blue Beach". Whilst unusual, it is practical and works well, like most things in the Falkland Islands do. And it ensures that even one of the most isolated electorates in the world get to vote.

We have made massive progress over the last three decades, economically, socially and politically. Having now retired after serving as an Assembly Member since 1996, I am delighted to see the unique democratic process keep flourishing in our beautiful islands, and most important of all the continuation of our right to self-determination. (The Times)