Argentina cancels proposed tax on wine included in a fiscal reform
Saturday, November 11th 2017 - 08:46 UTC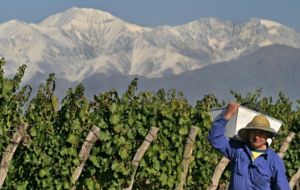 Argentina's government has decided to ditch a proposed tax on wine after vineyards complained the measure would cripple the industry, the governor of the country's top wine-making province said.
President Mauricio Macri backed down from a proposed 10% tax on wine and increased tax on champagne following a private meeting with Mendoza Governor Alfredo Cornejo.
Wine producers in Argentina, famed for its plush malbecs, had decried the proposal's potential impact on sales as they struggle to recover from two of their smallest vintages in recent history.
"We understand that we have been heard," Cornejo's office said in a statement.
"Macri has confirmed that the wine tax will not go to Congress, so it remains at zero percent."
Macri's administration included the wine tax in a bill to overhaul the tax code in an effort to partly offset revenue expected to be lost due to a proposed corporate income tax cut. The legislation is supposed to be revenue-neutral in five years to avoid straining the budget deficit.
Unlike beer, mineral water and sugary drinks, Argentine wine is exempt from tax. But winemakers in the country, which is the world's sixth-largest producer, argued domestic consumption, already on the decline, would fall further, straining their efforts to boost exports amid high inflation and labor costs.
Winemaker Esteban Baigun, director general of Codorniu Group in Latin America, said he was relieved by the announcement.
"We are happy that the government listens, though we are aware that Argentina is still going through a complex situation," he said.