October inflation in Argentina reaches 1.5% and 19,4% in ten months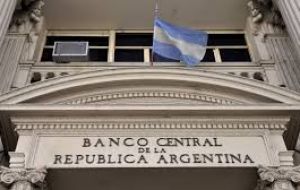 Argentina's consumer prices rose 1.5% in October, government statistics agency Indec said on Tuesday, bringing 10-month inflation to 19.4%. It was the second month in a row that cumulative inflation for 2017 was above the upper band of the central bank's target range for inflation, between 12% and 17% this year. Private sector economists expect inflation of 23% this year and 16% in 2018.
The struggle to bring inflation in line with its targets has prompted the central bank to hike its benchmark seven-day interbank lending rate twice in the past month, bringing it to 28.75%.
Later on Tuesday, the central bank hiked interest rates on its 35-day Lebac securities to 28.75 percent in its monthly auction, up from 26.5 percent previously. The monetary authority sold 335.254 billion pesos ($19.20 billion) in Lebac securities, compared with the 379.850 billion pesos worth of Lebacs that matured.
The central bank no longer considers the short-term Lebac yield as its benchmark interest rate, turning instead to the seven-day interbank lending rate at the start of this year.
In greater Buenos Aires, which was used as a proxy for national inflation before the government implemented a nationwide index earlier this year, consumer prices rose 1.3% in October and 22.9% compared with the same month last year.
That was a deceleration from September, when consumer prices rose 1.9% nationwide and 2% in greater Buenos Aires. Economists have warned that hikes to regulated prices in November and December as President Mauricio Macri's administration removes economic subsidies will keep inflation elevated for the rest of the year.