Hopes to find missing submarine ARA San Juan fading after five days
Tuesday, November 21st 2017 - 08:26 UTC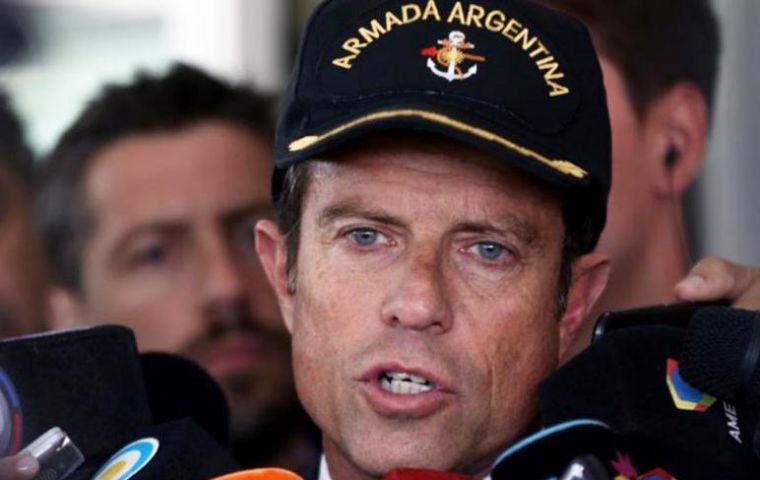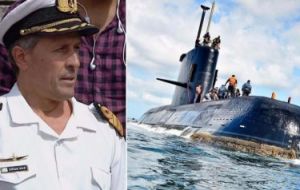 Argentine submarine ARA San Juan reported an electrical problem and was headed back to base when it went missing last week in the South Atlantic, the navy said on Monday, while storms complicated efforts to find the vessel and its 44 crew members.
Hopes for a successful search for the ARA San Juan submarine, which went missing last Wednesday off the Argentine coast, waned on Monday when the navy said satellite calls detected over the weekend did not in fact come from the vessel.
More than a dozen boats and aircraft from Argentina, the United States, Britain, Chile, Uruguay and Brazil joined the search effort. Authorities have mainly been scanning the sea from the sky, as storms have made it difficult for boats.
Naval commander Gabriel Galeazzi told reporters that the submarine had surfaced and reported an electrical malfunction before it disappeared 432 km off the coast on Wednesday. She was travelling from Ushuaia in Tierra del Fuego to its base in Mar del Plata.
"The submarine surfaced and reported a malfunction, which is why its ground command ordered it to return to its naval base at Mar del Plata," he said.
Galeazzi said it is normal for submarines to suffer system malfunctions. "A warship has a lot of backup systems, to allow it to move from one to another when there is a breakdown," he said.
Crew members' relatives gathered at the Mar del Plata naval base, waiting for news. They were joined by President Mauricio Macri, who arrived late morning but did not address the media.
Intermittent satellite communications had been detected on Saturday and the navy had said they were likely to have come from the submarine. But the ARA San Juan in fact sent its last signal on Wednesday, navy spokesman Enrique Balbi said.
The calls that were detected "did not correspond to the satellite phone of the submarine San Juan," he said on Monday, adding that the craft had oxygen for seven days. After that, he said, it would have to surface or get near the surface to replenish air supply.
The exact position of the ARA San Juan is still unclear. The TR-1700 class submarine appears to have taken a detour to gather information on illegal fishing. It is common in the region for foreign boats to exceed their quotas, transferring their haul to other vessels so they can continue catching in the South Atlantic Ocean.
A powerful storm has whipped up seven-meter waves, which has made geo-location difficult, officials said. Weather conditions are not expected to improve before Tuesday.
Australian naval analyst James Goldrick, and former senior officer and leader of the Australian Defense Force Academy, said it was highly unlikely they had survived after so long.
"Every hour, the likelihood of their being found alive diminishes," said the expert. "I don't hold up much hope of their being found. It would be fantastic if it turns out it was just communications, but after this amount of time, I don't believe it will".
With the sub hidden deep in the ocean, it is impossible to know what has happened, but the retired officer speculates that something more than a communications failure has happened to prevent it from surfacing.
Submarines usually have indicator buoys that appear at the surface if a sub goes down, but with the vessel being so old, we don't know what its capabilities were. The fleet was modernized between 2007 and 2014 to extend its use by about 30 years, but Argentina has been plagued by economic problems.
If a compartment of the submarine has caught fire or flooded, "it gets very tricky to survive", Goldrick added.
"If, let's say, a pipe broke in a major compartment, you have to close that off," he explained. "If there's flooding in the centre of the ship or a fire in the control room, you could have survivors trapped at both ends of the boat."
The impact depends on not only how bad the accident was, but also how deep the sub was at the time it happened. "If you're relatively shallow, you're OK, but if it's deep, they're all dead," said Goldrick. "Below a certain level, the hull crushes in."
It would also then be too deep for the crew to use any means of escape such as diving apparatuses because the human body cannot endure the pressure at such depths. If it was below crush depth, the sub would most likely have sunk, hitting the sea bed at any angle.