Air China has "temporarily suspended" flights to Pyongyang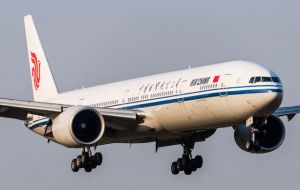 Beijing-owned Air China airline has ended flights to the capital of North Korea Pyongyang, due to a lack of passenger demand. Flights were "temporarily suspended due to unsatisfactory business operations," said an Air China employee.
The suspension means North Korea's Air Koryo is the only airline, which connects the country to China. Its website lists flights to Beijing, Shanghai, Shenyang, and Dandong in China and Vladivostok in Russia.
In April, Air China said it was cutting the frequency of flights to its isolated neighbor. Some other Chinese airlines offered charter services to the country, but those have been scrapped as well.
Chinese Foreign Ministry spokesman, Lu Kang, said he had no information about the news, but any such decisions would be made based on the "state of operation and the market," he said.
The UN Security Council unanimously imposed new sanctions on North Korea. China said it would enforce them. According to US reports, as of the end of October, China has significantly cut coal, lead, and iron ore imports from the North, which are crucial for Pyongyang's economy.
Lead ore imports dropped 84%, iron ore shipments plunged 98%, and coal imports were down 71.6% from a year earlier. China also stopped selling gasoline and diesel to North Korea at the end of June over concerns the country would fail to pay for the goods. The restrictions are still in force. The October data showed trade between the world's second-largest economy and its northern neighbor was $412 million, the lowest since April.