RAF arrives in Comodoro Rivadavia to join the submarine rescue effort
Wednesday, November 22nd 2017 - 17:06 UTC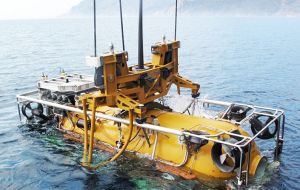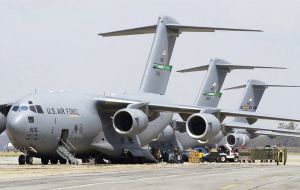 British and Spanish planes landed on Wednesday in Comodoro Rivadavia as part of the ongoing international effort to try to locate and rescue the Argentine submarine ARA San Juan which has now been missing for a week, and is in the "critical situation", according to the official report from the Argentine navy.
At mid morning an RAF Airbus Voyager 330 transport arrived in the Patagonian port that has become the rescue hub mainly for the US Navy and its high technology submarine rescue deployment.
According to local sources the RAF aircraft arrived with state of the art submarine detection equipment. Royal Navy HMS Protector is actively participating in combing a vast area of the South Atlantic for any submarine signals.
The Brize Norton based RAF transport with a 290 people capacity can also be used as a tanker to supply other aircraft in the air, and is in service with several air forces with similar purposes.
Comodoro Rivadavia also reported that this is not the first RAF unit to join the submarine search effort. A Hercules C 130, normally stationed in the Falklands is also operating in the area and apparently has also landed in Comodoro.
A second international aircraft to arrive in southern Argentina was a Falcon-900, from the Spanish Air Force, which is also involved in the search and rescue operation.
Local authorities also revealed that in the evening another US Air Force Galaxy is scheduled to arrive with further equipment for the US Navy Undersea Rescue Command, URC.
Last Sunday the URC arrived in Comodoro Rivadavia in three U.S. Air Force C-17 Globemaster III and one U.S. Air Force C-5 Galaxy aircraft loaded with the Submarine Rescue Chamber (SRC) and underwater intervention Remotely Operated Vehicle (ROV).
During rescue scenarios, the ROV is used to first survey the submarine's location, determine the angle it's resting on the seabed, and can be used to clear any debris blocking hatches to be used during a rescue attempt