"Silver Cloud" cancels Antarctica cruise and Falklands call following engine failure
Thursday, November 23rd 2017 - 08:00 UTC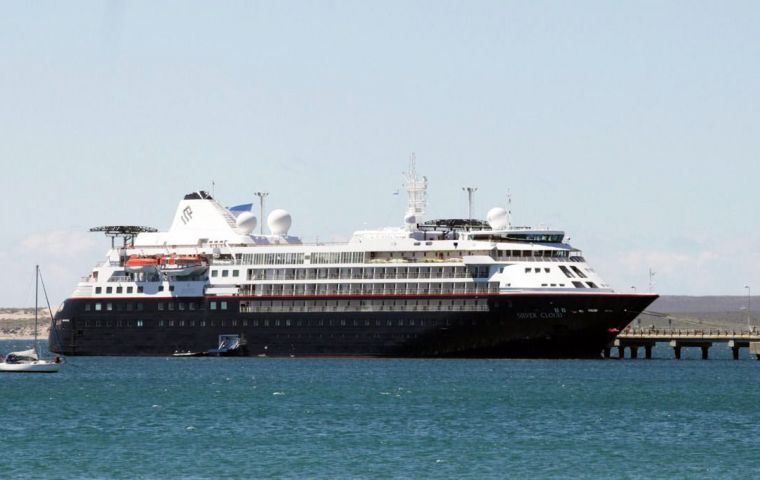 The failure of a fuel pump and engine left the "Silver Cloud" adrift as it headed toward Antarctica on November 20, 2017. Power was reportedly restored to the ship in about an hour, permitting the cruise vessel to return to Puerto Madryn in the South Atlantic for repairs.
However, the following day, Silversea Cruises concluded that the replacement fuel pump part would not be delivered in time for the ship to cruise to Antarctica.
The recently-refurbished ship was scheduled to call on the Falkland Islands, the South Shetland Islands and the Antarctic Peninsula on a 16 day expedition between Buenos Aires and Ushuaia. Rough weather had delayed the cruise, with the capital of the Falklands, Stanley, being omitted from the itinerary.
According to the UK media the 23 year-old "Silver Cloud" underwent extensive refitting, including a three month refit at a shipyard in Malta, to convert it for polar expedition voyages.
The ill-fated cruise cost the passengers around £12,000 each. Reports indicate that "Silversea will provide full refunds to all passengers, as well as organizing and paying for flights back to Buenos Aires and on to guests' airports of origin. It also offered overnight accommodation and expenses in Buenos Aires, a refund of outward air fares, and a discount on future bookings."
Luckily, the engine failure occurred in "relatively light seas. If the power failure occurred in the "infamously rough" Drake Passage to Antarctica, the outcome "might have been much more serious."