Falklands receives port of Vigo experts to address port potential and development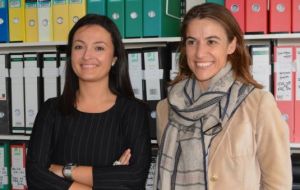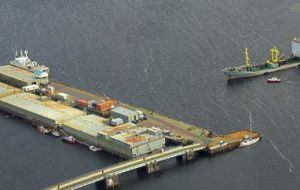 A delegation of two technicians from the Spanish Port of Vigo are visiting the Falkland Islands with the aim of offering their informed opinions on potential port development. The Falklands has a close business relationships with the port as a result of long term joint business ventures with Spanish fishing companies, and the new Falklands longliner CFL Hunter was built there.
Some 700,000 tons of frozen fish, mainly squid and hake, are managed through Vigo and around 8% of that comes from Falklands waters, so Vigo is keen those shipment continue despite the uncertainty surrounding Brexit, assured the pair.
Port Authority Director Beatriz Colunga and the area's Development Chief Ana Ulloa told Penguin News the visit was set up via the Falkland Islands Government Representative in London Sukey Cameron.
They assured that they were aware different ports required different infrastructures – and that infrastructure must be relevant to the goods and to the life in the Falklands and should be developed and grown accordingly.
They said they saw the day to day running of the Port of Vigo and as such were able to give an opinion, "from real life."
They believe the essential first step was for the country to decide on a location and believed FIPASS was the correct location for development primarily because everything that was needed to support it was close by.
Ms Ulloa said: "Logistical costs are higher for the people if the infrastructure is not near to the town… further away from the town will impact on fuel costs of vehicles transporting goods."
Ms Colunga noted that the government should be looking twenty years ahead to what would be required in the future. She acknowledged that FIPASS would have to be changed and improved but, "all the facilities both public and private are in the same place there."
They confirmed they were thinking in terms of the port for all activities not just the fishery, but tourism and oil too. She said with everything in one place then maintenance costs were less.
"You have to optimize resources," said Ms Ulloa. They also reassured that they did not see the small entrance to the harbor as a problem: "In Spain there are several ports where the entrance is worse than the Narrows. In our opinion it is not a big limitation."
It was vital that the Falklands purchased a tug for use in bad weather and for safety they said. (Penguin News)