Total begins oil production in the giant Libra field in Brazil's pre-salt zone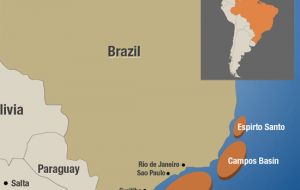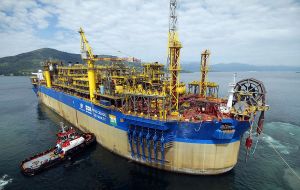 The giant Libra field in Brazil's pre-salt zone has started producing oil, French Total said on Monday without providing details about the production rate at the field.
The floating production, storage, and offloading vessel operating at Libra has a capacity of 50,000 bpd, and the French company is now preparing to launch a second one, the Libra 1 FPSO, which will have a capacity of 150,000 bpd of crude.
The Libra field, situated in the prolific Santos Basin, is one of the world's biggest discoveries in the last few years. Brazil's state-owned Petrobras (40%) is operator of the project, and Total and Shell each hold a 20% stake. The remainder is split equally between two Chinese companies, CNOOC and CNPC.
Problems with the installation of production equipment at the ultra-deep field delayed initial production, which was slated to begin before the end of June this year. The Libra field lies 2,000 meters underwater and has recoverable reserves estimated at between 8 and 12 billion barrels of oil. The Santos Basin in which it is located is the focal point of oil exploration Brazil, which is shaping up to be the new hotspot for the international oil industry.
Besides Total and Shell, which also have minority interests in the Libra and Lula fields and in other areas such as Sapinhoá, Lapa, and Iara, all of which are located in the Santos Basin, Statoil is developing the Carcara field, also in the Santos Basin.
Exxon was the latest to join the party in Brazil's pre-salt zone after it paid US$ 1.2bn for 10 offshore blocks at an auction in September. For one of the fields, located in the Campos Basin close to the pre-salt zone, Exxon and its local partner Petrobras bid US$700 million, which was the highest ever sum offered for an oil block in the country.