US allied Honduras presidential candidate is losing to opposition challenger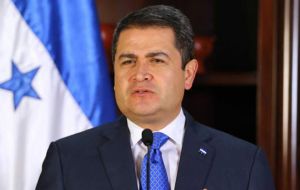 Early results from Honduras' presidential election on Monday showed leftist challenger Salvador Nasralla with a surprise lead over incumbent President Juan Orlando Hernandez. David Matamoros, president of the electoral court, announced that, with 57% of the vote counted, Nasralla is polling 45.7% of the vote, to Hernandez' 40.2%.
The late hour for the announcement of the votes had suggested a close vote between Hernandez, a conservative U.S. ally, and Nasralla, the candidate of the leftist Alliance of Opposition Against Dictatorship. Both men had claimed victory.
Turnout in Sunday's vote appeared to be heavy across the country, with relatively minor irregularities reported.
Nasralla, 64, trained as an engineer and is a popular sports commentator and presenter on one of the country's top television contests. Born in the Honduran capital of Tegucigalpa, Nasralla began working as a radio sport reporter when he was 14. According to his official party biography, it was in his travels around the country for his programs that Nasralla came to understand the needs of Hondurans.
Nasralla says constant complaints about corruption in the country led him to form the Anti-corruption Party in 2013, promising to challenge the two-party system and set up of an anti-impunity commission. A director of programs such as Miss Honduras, Nasralla last year married Iroshka Elvir, Miss Honduras of 2015.
Hernandez built his support largely on a drop in violence in this impoverished Central American country, whose homicide rate was once among the world's worst. Honduras' National Autonomous University says the rate has dropped to 59 homicides per 100,000 people from a dizzying high of 91.6 in 2011. But corruption and drug trafficking allegations cast a shadow over his government.
And his re-election bid fueled charges that the president's National Party was seeking to entrench itself in power by trampling the country's institutions with court approval for the president to seek a second term.
Fears of just that sort of consolidation — but by a leftist rival allied with Venezuela — led Hernandez' party to back a military coup in 2009 against a president it accused of plotting to violate Honduras' seemingly iron-clad constitutional ban on re-election.
The country's highest court backed the 2009 ouster of President Manuel Zelaya. But the current court is packed with Hernandez' supporters and it ruled in 2015 that the constitutional ban was overridden by a citizen's right to seek re-election.
In addition to people in Honduras, tens of thousands of Hondurans were eligible to cast ballots in seven U.S. cities: Atlanta, New Orleans, New York, Los Angeles, Miami, Houston and Washington.
Sunday's general elections were the 10th in Honduras since the country returned to democracy in 1980 after almost two decades of military regimes. Despite his popularity, Hernandez had a weak spot in the perception of corruption.
A convicted drug trafficker testified in a New York courtroom this year that he met with Hernandez's brother Antonio to get Honduras' government to pay its debts to a company that the trafficker's cartel used to launder money. Devis Leonel Rivera Maradiaga, ex-leader of the cartel known the Cachiros, testified that Antonio Hernandez asked him for a bribe in exchange for government contracts. The brother has denied that allegation.
And in September, the son of a former president from Hernandez's party, Porfirio Lobo was sentenced in New York to 24 years in prison after revealing his role in a cocaine trafficking conspiracy. Fabio Lobo, 46, pleaded guilty in May 2016, admitting he worked with drug traffickers and Honduran police to ship cocaine into the United States.