Falklands' concerns put forward at meetings with Prime Minister May and Foreign Secretary Johnson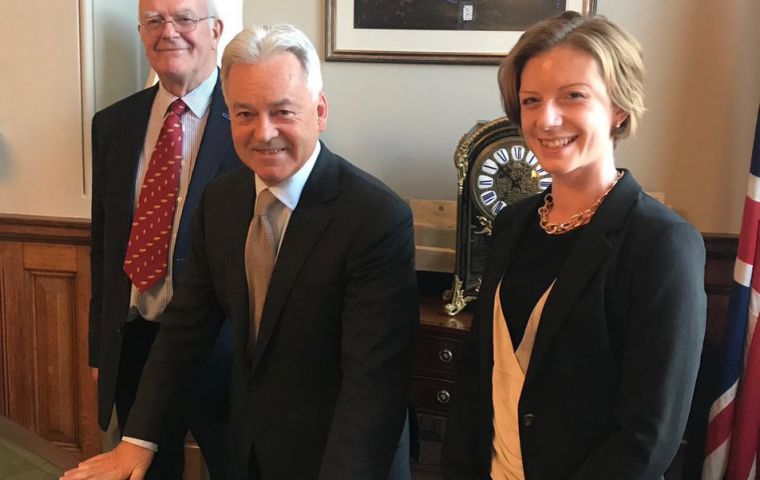 Following a full day of activities in London in the framework of the annual British Overseas Territories Joint Ministerial Council meeting, the Falklands delegation said talks were very high level, and a wonderful opportunity to put forward the Islands concerns, such as Brexit, and listen to the issues faced by the other British Overseas Territories.
The most important meeting was with Prime Minister Theresa May on Tuesday morning but, delegates also had a chance to talk to Foreign Secretary Boris Johnson as well as Penny Mordaunt, UK Secretary of State for International Development, while Minister of State for Europe and the Americas, Sir Alan Duncan will also be chairing JMC.
"Meetings today have been very high level, which has been both a wonderful opportunity and a reassuring experience. We really appreciate the focus on the Overseas Territories and the warm reception from HMG", recently elected MLA Teslyn Brakman and head of the Falklands delegation, which also includes MLA Roger Edwards and Sukey Cameron, OBE, Falklands' government representative in London.
"As delegation lead I have been involved at the forefront of these meetings, and have been keen to build links that demonstrate the real family that is the British Overseas Territories, and highlight the similar issues we face", continued MLA Barkman, who underlined that "we have thanked the UK government for their unwavering support and focussed on putting forward our international concerns, particularly the issues that may be raised with Brexit".
Finally the Falklands delegate pointed out it has been particularly heart-breaking to hear from the Caribbean Islands about the devastation of the hurricanes Irma and Maria. Falklands have contributed with support funds to some of the worst hit Caribbean islands.
The Overseas Territories two-day JMC will be over on Wednesday and the items on the agenda for discussion include: disaster relief and recovery; environment and climate change resilience; sustainable economic development; child safeguarding; tax transparency and beneficial ownership; and implications for the Overseas Territories of EU Exit.