Fed chief candidate anticipates US economy is ready to end "accommodation"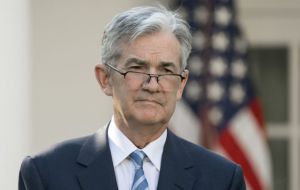 Jerome "Jay" Powell, President Donald Trump's pick to lead the US central bank, the Federal Reserve, is about to become "the most important economic policymaker in the world". At least that's how one senator put it at Powell's confirmation hearing in Washington on Tuesday.
Powell, a former investment banker and current governor of the Federal Reserve, is widely expected to be approved by the Senate. Powell said he expects US GDP to grow 2.5% in 2017, and continue at a similar pace next year - a healthier rate than the US has seen for years.
Coupled with a low 4.1% unemployment rate, he said that means the economy is ready for the Fed to remove the policies, known as "accommodation", it put in place to boost economic activity after the financial crisis.
"We've been patient in removing accommodation and I think that patience has served us well," he said. "It's time for us to be normalizing the interest rate and the size of the balance sheet as well."
In his remarks, Mr. Powell said the case for an additional rate rise in December is "coming together" and repeated that he expects the Fed's balance sheet to shrink to US$2.5tn-US$3 trillion over the next three or four years. But he also admitted to uncertainty about some areas - such as relatively weak inflation.
"Is is transitory or are there more fundamental things at work?" he said. "We really don't know yet," said Senator Richard Shelby, a Republican from Alabama. "No, we don't," Mr. Powell agreed.
Powell presented himself as a moderate on regulation - a stance that may have left some members of both parties dissatisfied. He praised some of the rules that have been put in place since the crisis, such as stress tests and new powers to liquidate failing institutions. But he also made it clear that he wanted to revisit some measures.
"I'm not going to characterize what we're doing as deregulation," he said. "I would rather think of it as looking back over eight years... and making sure that what we did make sense."
He added that he does not think there are banks that are still "too big to fail" and told Senator Elizabeth Warren, a Democrat from Massachusetts, he didn't see the need for new or stricter rules. "Honestly Senator, I think they're tough enough," he said.
Democratic senators repeatedly asked Mr. Powell to say how the Republican tax cut proposal, which is estimated to cost US$1.5tn, might affect the economy. Powell just as repeatedly declined to do so, saying those policies are not his responsibility but the purview of Congress.
"It's a bit of a fine line that we have to walk on this and I'm hoping I can walk it," he said.
After pressing from Democrats, Mr. Powell said he was concerned about "the sustainability of our fiscal path in the long run" but he declined to take a position on the tax bill, which is one of the president's priorities.
"Obviously if we increase the national debt we're going to make those problems even worse," he said. "I think the idea would be to get GDP growing faster than debt over a long period of time."