Karen Pierce first woman UK Permanent Representative to United Nations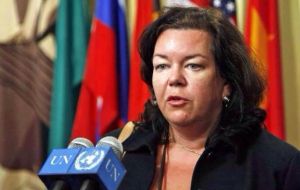 Karen Pierce, currently Director-General Political at the Foreign and Commonwealth Office, has been appointed as the new UK Permanent Representative to the United Nations. . Karen is the first woman appointed to this role, and is uniquely suited for the position having previously served as Deputy Permanent Representative to the UN in New York, and more recently as the Permanent Representative to the UN in Geneva.
The current Ambassador and Permanent Representative, Matthew Rycroft, has been in the post since 2015 and will handover in January 2018 when he returns to London to take up his new role as Permanent Secretary at the Department for International Development.
On being announced as the new Ambassador to the United Nations, Karen Pierce said:
"The UK has long been a strong supporter of the UN and its role at the heart of the global rules-based international system at a time when it is coming under challenge. Through our role as a permanent member of the Security Council and position as the UN's third largest donor, the UK will continue to work with others to tackle the pressing security, stability, development and prosperity challenges of today.
"Our security and economic interests depend to a large extent on a strong and effective United Nations. I am honored to be appointed as the UK's Ambassador and to head the UK cross-government effort at the UN. I undertake to ensure we are an active force in New York for progress and partnership".
Foreign Secretary Boris Johnson said: "Britain has a proud history of working for positive change through the United Nations, not least in addressing the problems in Libya and Syria. I know Karen has the diplomatic skills, energy and patience to continue this vital work, and I congratulate her on her appointment".