Argentina: "Angel of Death" and 28 ex military sentenced to life in prison for crimes during dictatorship
Thursday, November 30th 2017 - 09:32 UTC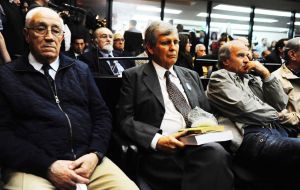 A former navy captain known as the "Angel of Death'' was sentenced on Wednesday to life in prison for human rights violations committed at a notorious clandestine detention and torture center during Argentina's 1976-1983 dictatorship.
Verdicts were also read against 53 other people in the largest trial of its kind in Argentina's history. In total, 29 people were jailed for life and 19 sentenced to between 8 years and 25 years. Six others were acquitted.
Former Capt. Alfredo Astiz sat motionless as a judge read the charges against him that included kidnapping, torture, homicide and stealing minors. Astiz's nickname came from his cherubic looks and for his work delivering dissidents to the military junta as an undercover agent. He previously was convicted of kidnapping, torturing and murdering two French nuns and a journalist and was already serving a life sentence.
Throughout the trial, Astiz remained unrepentant."Human rights groups want persecution and vengeance,'' he said. "I'll never say I'm sorry.''
In the past, Astiz had accused former President Cristina Fernandez of promoting unjust and illegitimate prosecutions for her own political gain. Her late husband and predecessor as president, Nestor Kirchner, encouraged the trials after Argentina's Congress and Supreme Court removed amnesties that had protected junta veterans.
Hundreds of people outside the courtroom celebrated as sentences were read. Some held a large poster with photos of the 54 defendants with a letter "P'' for "perpetua,'' referring to life sentences, scribbled over the men's faces. Others held banners about the disappeared that read: "Tell us where they are.''
"We're living a historic moment,'' said Taty Almeida, an activist with the Mothers of Plaza de Mayo, a group that has campaigned to find people disappeared by the junta.
"More than ever, we're going to keep demanding justice,'' she said.
Prosecution of the crimes began in two previous trials in 2007 and 2009. The third trial that concluded on Wednesday was the largest and involved crimes against humanity committed against 789 people at the Naval Mechanics School — the era's biggest clandestine torture center. An estimated 5,000 prisoners were held there. Some were drugged and later thrown alive from airplanes into the River Plate or to the sea in "death flights.''
"In Argentina's history, the death flights will always be regarded as an incomparable monstrosity,'' said human rights activist Eduardo Jozami. "It's key that this vision held by most Argentines has been ratified with this sentence.''
The Naval Mechanics School, a leafy former military campus, is now home to a museum dedicated to preserving evidence of crimes against humanity. The grounds also used to house a maternity ward where pregnant detainees were held until they gave birth and then were made to "disappear.''
Human rights groups estimate about 30,000 people were killed or forcibly disappeared during Argentina's brutal dictatorship.
"The reparation of victims and of society is only possible if the state complies with its obligations to investigate, sanction and reconstruct history,'' said the Buenos Aires-based Center for Legal and Social Studies, which was part of the legal team representing plaintiffs in the case.