Cristina Fernandez and Menem take the oath and become Senators until 2023
Thursday, November 30th 2017 - 07:26 UTC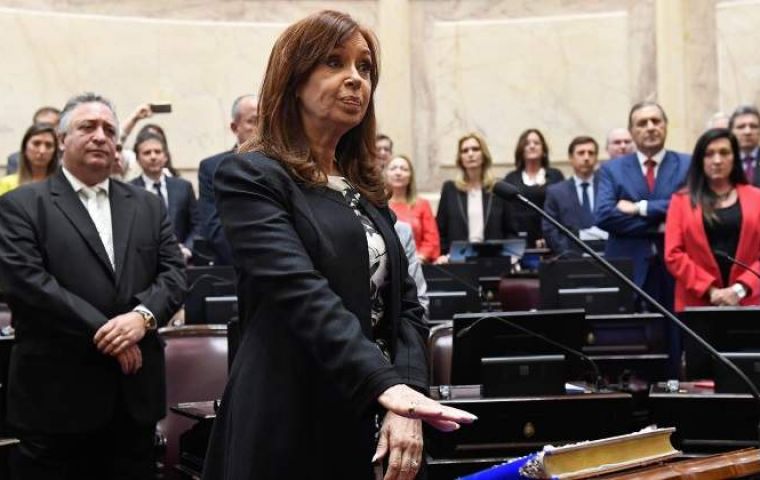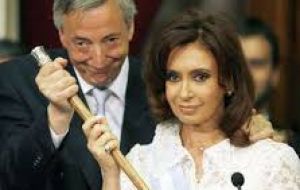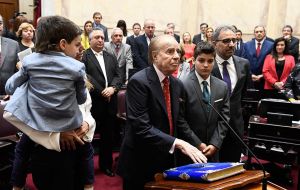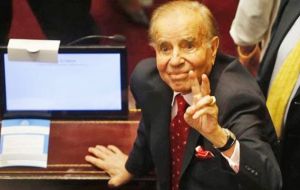 Twenty three newly elected Senators took the oath of office in Argentina on Wednesday morning including ex presidents Carlos Menem, Adolfo Rodriguez Saa and Cristina Fernandez. The midterm election to renew a third of the Upper house was held in October and the new legislature will formally begin 10 December.
The ceremony was headed by vice-president Gabriela Michetti and the new Senators were alphabetically roll called by province and name. Provinces included, Buenos Aires, Formosa, San Juan, San Luis, Santa Cruz, Jujuy, La Rioja and Misiones. The new lawmakers will enjoy a six-year term.
The only missing Senator was incumbent Gladys Gonzalez from the province of Buenos Aires, currently visiting China. The other two Senators of the province were Esteban Bullrich who defeated in an extremely tight race, Cristina Fernandez. Under Argentine legislation the winning party takes two of three seats.
Security was strict and tight in Congress for the ceremony, with Cristina Fernandez arriving sharp on time, and applauded and cheered, before and after the oath by some lawmakers and followers who attended the event. However her son Maximo and daughter Florencia were absent.
Cristina was president eight years from 2007/2011 and 2011/2015, while her late husband Nestor Kirchner, 2003/2007.
"Thank you all, so we can all listen" to the Senator, said vice-president Michetti.
Another ex president Carlos Menem was reelected for his birth province of La Rioja and inaugurated on Wednesday his third consecutive six year mandate, which will see him in the Senate until 2023.
He was not cheered as with Cristina but was accompanied by his daughter Zulemita and his two grandchildren holding an Argentine flag. Menem was president two consecutive terms, 1989/1995 and 1995/1999
The third ex president was Adolfo Rodriguez Saa who represents the province of San Luis. He occupied the Pink House for a few days during the turmoil following the resignation of Fernando de la Rua in 2001.