Argentina thanks UK government for its technical support and the Falklands for its help attitude
Friday, December 1st 2017 - 06:30 UTC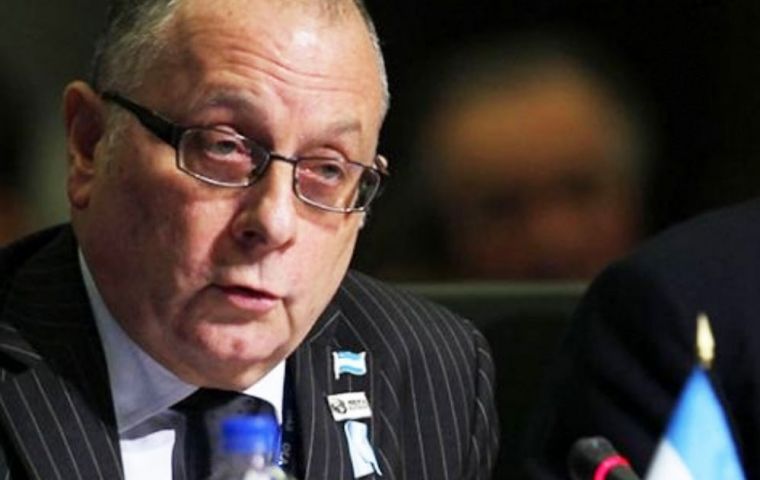 Argentina thanked the "friendship gesture" from the UK government and the attitude of the Falklands' people for helping with the search of the lost submarine ARA San Juan, which has been missing for fifteen days in the South Atlantic.
Foreign minister Jorge Faurie said on Thursday that Argentina highly valued the technical support provided by the British government, "including the attitude of the Malvinas inhabitants", who offered the possibility that helicopters stationed in the Islands could participate in the search.
"I think that it is a fact that Argentines, whom are enormously sensitive to gestures of friendship in moments of need, we have appreciated (such gestures) as it should", said minister Faurie talking to the Buenos Aires media.
Currently some nineteen countries, among which US, Russia, UK, Brazil and Spain, are working in the area providing air, naval and logistics support in the search for the missing submarine which disappeared on November 15, some 430 kilometers off the Patagonian coast with a crew of 44, including the first Argentine navy woman submariner.
"As Argentines the most important is to have acknowledged the significance of international aid", added the minister who valued enormously that the UK is one of the many countries that has been collaborating in search operations.
"This is a fact to underscore in the context of our bilateral relations with UK, which did not begin to change with this profound gesture of respect and sensitivity for the current moment Argentina is undergoing, but on 10 December 2015", added Faurie in reference to the day President Mauricio Macri took the oath of office.
Thirty five years ago, UK and Argentina were involved in an armed conflict when the Argentine military invaded and occupied during 74 days the Falklands. Finally defeated, they surrendered to a Task Force sent by the UK. The death toll was 649 Argentines, 225 British and three Islanders. Argentina however has not ceased to claim sovereignty over the Falklands, arguing they were a legacy of the Spanish empire, and that an Argentine settlement was forcibly ousted by the British from the Malvinas in 1833.
In 2013 Falkland Islanders went to the polls in a referendum in which an overwhelming 99.8% majority decided to remain as a British Overseas Territory.