Russia offering Argentina MIG-29 aircraft, reveals Moscow top official
Thursday, December 7th 2017 - 08:04 UTC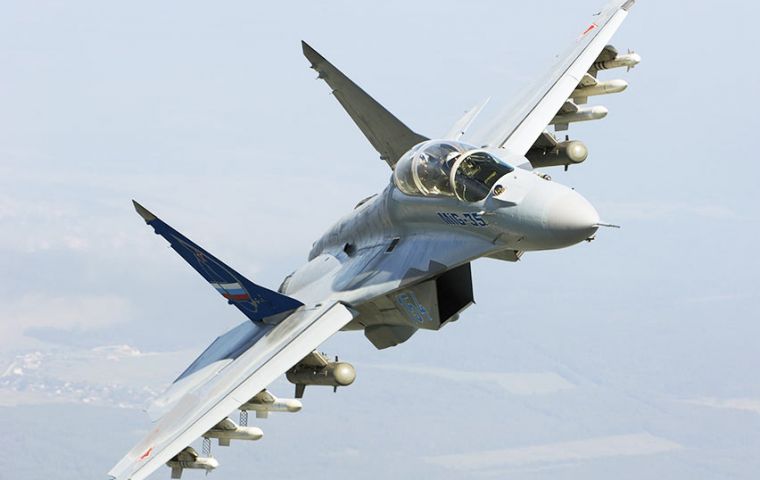 Russia has sent Argentina all the necessary materials for taking part in a tender for fighter jets with its Mikoyan MiG-29 aircraft, Deputy Director of the Federal Service for Military and Technical Cooperation Anatoly Punchuk told TASS news agency.
Punchuk is heading the Russian delegation at the Expodefensa 2017 arms exhibition in Bogota, Colombia, which is taking place this week.
"Speaking about Argentina's possible acquisition of Russian MiG-29s, I want to note that the hardware is being selected in compliance with the required parameters and on a tender basis while a final decision on the aircraft purchase is within the competence of the leadership of the Argentine Republic. As of today, the Russian side has said it is ready to take part in the tender and submitted all the required materials. We hope to win in the tender," Punchuk said.
As Punchuk told TASS earlier, Argentina is interested in buying Russian MiG-29 fighters. These aircraft are perfectly suitable for solving the tasks placed upon the Argentine Air Force and for their operation in local geographical conditions, he added.
The MiG-29 multirole frontline fighter is designed to destroy air targets day and night in any weather conditions. The aircraft can effectively carry out air patrols and provide air support for ground forces and troop landings, isolate a combat area, conduct air reconnaissance, intercept air targets, accompany attack and military transport planes and deliver strikes against ground and naval targets.