Falklands Code of Practice covers much of ILO Work in Fishing Convention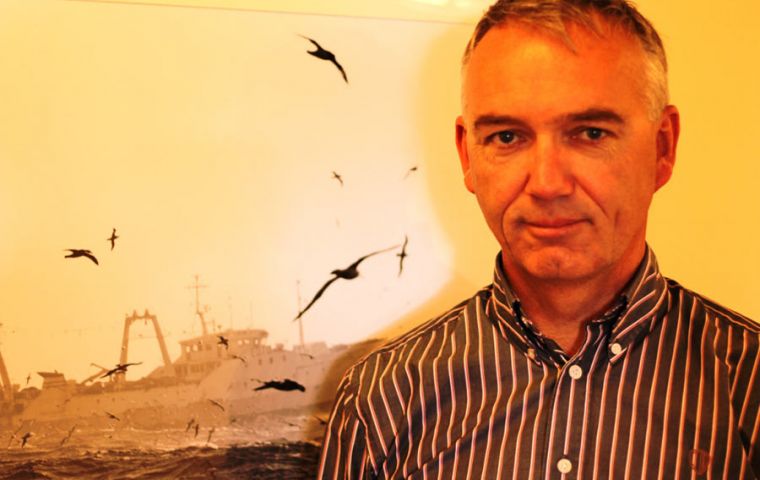 A convention which has been described as opening up a new era for millions of fishermen worldwide will have some impact on fishermen working in the Falkland Islands' waters. Director of Natural Resources John Barton said that he thought some of the articles of the International Labour Organization (ILO) Work in Fishing Convention 2007 would be enshrined into Falklands licensing conditions make them more robust.
However Mr. Barton pointed out that the FIG Code of Practice which came into force in 2015 already contained provisions relating to the working conditions of fishermen.
Much work had already been done to improve the health, safety and working conditions of fishermen working on Falklands licensed vessels, and much remained to be done said the Director, but the Fisheries Department had been, "chipping away where we can."
There had been problems with the jigging fleets in the past, but these were being addressed.
Mr. Barton said that although the UK had not yet ratified the Convention, he was sure that the practices required by their fishing authority and that of the Falkland Islands were already broadly compatible in many areas with those of the ILO Work in Fishing Convention
The Convention, aims to ensure that fishermen have improved occupational safety and health and medical care at sea, and that sick or injured fishers receive care ashore. It also requires them to be allowed sufficient rest for their health and safety, to have the protection of a written work agreement and to receive the same social security protection as other workers. In addition it aims to ensure that fishing vessels are constructed and maintained so that workers have decent living conditions on board.
The ten year delay between 2007 and 2017 was because the Convention was required to come into force twelve months after being ratified by 10 states, eight of which had to be coastal countries.
As of November 2016, the convention had been ratified by ten states: Angola (2016), Argentina (2011), Bosnia and Herzegovina (2010), Republic of the Congo (2014), Estonia (2016), France (2015), Lithuania (2016), Morocco (2013), Norway (2016), and South Africa (2013), all of which are coastal states.
Following Lithuania's ratification of the convention on 16 November 2016, the convention came into force on 17 November 2017. (Penguin News)