The Queen commissions UK's new aircraft carrier HMS Queen Elizabeth
Friday, December 8th 2017 - 00:13 UTC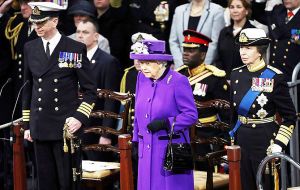 Queen Elizabeth II has commissioned the UK's new aircraft carrier HMS Queen Elizabeth into the Royal Navy. The Queen spoke at a ceremony in Portsmouth's naval base on Thursday morning, attended by Her Royal Highness Princess Anne, Defense Secretary Gavin Williamson and military chiefs.
In her role as the ship's Lady Sponsor Her Majesty addressed guests before the Ship's Commanding Officer, Captain Jerry Kyd, read the commissioning warrant. The iconic White Ensign was then raised, symbolizing the commissioning of UK's future flagship into the Royal Navy's fleet.
Having successfully completed her second stage of sea trials off the south coast of England, the carrier is back alongside at her home port of Portsmouth. Over 10,000 people across the UK have contributed to the delivery of the ship under the Aircraft Carrier Alliance.
Completing final build activity and preparing for helicopter trials in the New Year, HMS Queen Elizabeth will head to the United States for initial flight trials off the coast in autumn 2018. There are currently 150 Royal Navy and RAF personnel training in the US on 13 F-35 jets.
The UK has worked closely on both the F-35 and carrier programs with the US, the pre-eminent partner within NATO, enabling to fly aircraft from each other's ships. Both of the UK's new carriers will be able to operate alongside NATO and coalition allies.