Honduras opposition, backed by international observers, challenges election results and insists on full recount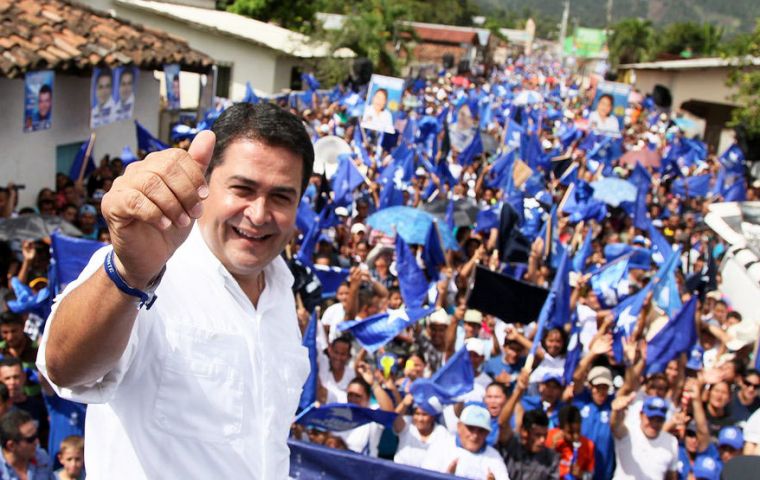 The challenger in Honduras' still unresolved presidential election has filed a challenge to the November 26 contest that seeks to annul the results and requests a recount. Salvador Nasralla, candidate of the opposition alliance, and his campaign team handed over the paperwork with just minutes to spare before a midnight deadline on Friday.
The Honduran electoral court's original tally put President Juan Orlando Hernandez ahead by more than 52,000 votes or 1.6%. But in an electoral process plagued by problems that dragged on for days, both candidates declared themselves winner.
International observers had urged the opposition to challenge the election through existing channels. The opposition alliance had called for a total recount in recent days, but said it would not accept any role for the electoral court, which it said was biased and lacked credibility for its ties to the government.
"We're sure it's not going to stick," Nasralla said of the challenge. "It is going serve for us as a reference point to be able to travel abroad and say that we exhausted the local process."
Nearly two weeks after the election, the way out of the standoff remains unclear. The electoral court is in the midst of a recount of the votes in nearly 5,000 ballot boxes that it says could take several more days. The boxes, more than a third of the total, held votes that were not transmitted to election officials on the night of the election. The court has said that they otherwise present no inconsistencies.
The electoral court has 30 days from the election to declare a winner, potentially placing an announcement square in the holiday season.
A local bar association also filed a challenge to annul the election on the grounds that Honduras' constitution does not allow re-election. The country's Supreme Court had earlier cleared the way for Hernandez to run.
After several days under a curfew called in the wake of some looting and property destruction, the government allowed people to move about freely in most of the country, including the capital on Friday. More demonstrations were expected through the weekend. Actually security forces refused to participate in any further repression of peaceful demonstrators.
Hernandez is the first Honduran president to run for a second term, following the Supreme Court's decision to lift the re-election ban. He was elected in 2014 to a four-year term, but contested the ban.
Amnesty International said Friday that "the Honduran government is deploying dangerous and illegal tactics to silence any dissenting voices in the aftermath of one of the country's worst political crisis in a decade, including preventing lawyers and human rights activists from visiting detained demonstrators."
Erika Guevara-Rosas, Americas director at Amnesty International said, "Honduras seems to be on a very dangerous free fall where ordinary people are the victims of reckless and selfish political games.