Passports of 130 Venezuelan children deemed void - no Xmas family gathering for them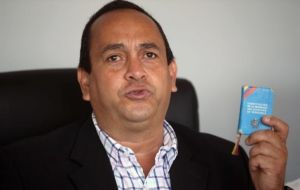 The Venezuelan government, through the first prosecutor of Vargas state and officers of the Autonomic Service of Identification, Migration and Foreign Affairs prevented the leaving of 130 children for Peru, where they were to meet with their parents last December 15.
On October 14, the non-Government Organization Unión Venezolana en Perú, launched the "Una luz de esperanza" project –a light of hope–, to airlift 250 children between December 15 and 20 into Peru, where their parents and representatives had emigrated like thousands of other Venezuelans to escape the humanitarian and economic crisis in the Bolivarian land.
Despite the NGO's announcement that children with health issues were to be prioritized, the Venezuelan régime blocked the departure of 130 children aged between one month and 15 years to rejoin their families for Christmas.
Acting as a spokesperson for the Venezuelan government, Tarek William Saab explained there were no official records of that NGO's presence in the country as he turned the spotlight toward a probable case of human trafficking.
The children were detained at Maiquetía's Simon Bolivar International Airport, their passports were cancelled and they were held for over eight hours escorted by officers who would only allow them to drink water. They were reportedly not given any food nor were they allowed to use the restrooms.
Authorities insisted the children's travel documents as minors were fraudulent, but UVP sources downplayed those allegations.
Among those to travel were the wife and daughters of former ex-deputy Oscar Perez, who is currently in asylum in Peru.
Peruvian TV host Andrés Hurtado, who had traveled to Venezuela for professional reasons, and was also arrested, explained that "I went through customs alongside 18 children when members of the secretj: service approached me, took my cellphone and my passport and said 'It's him!'"
"Some 20 men took me to migrations and then to another room and they tortured me. They said that I was never going to leave the country," Hurtado told CNN yesterday. Other members of the delegation were arrested and released later under precautionary measures.
According to Union Venezolana en Perú, in charge of processing the required travel documents for the children were their relatives and legal representatives.