Pope coming visit to Chile and Peru; no reference to the sea outlet conflict with Bolivia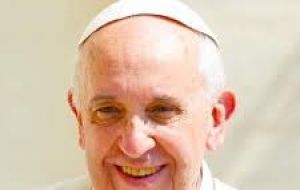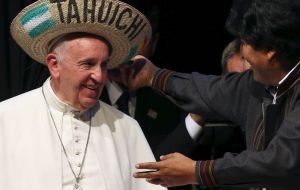 During his visit to Chile and Peru, Pope Francis will honor the country's religious roots and underline the plight of indigenous men and women. The Vatican said the pope will be in Chile Jan. 15-18, visiting the cities of Santiago, Temuco and Iquique. He then will fly to Peru and, from Jan. 18-21, he will visit Lima, Puerto Maldonado and Trujillo.
In Chile, the pope will meet with residents of the Mapuche indigenous community in the Araucania region. Members of the Mapuche have called for the government to return lands confiscated prior to the country's return to democracy in the late 1980s.
He will also meet with the indigenous people of the Amazon during his visit to Puerto Maldonado. The Amazon rainforest includes territory belonging to nine countries in South America and has experienced significant deforestation, negatively impacting the indigenous populations in the area and leading to a loss of biodiversity.
A special gathering of the Synod of Bishops to focus on the Amazon region will take place in Rome in October 2019.
The synod, he said, would seek to identify new paths of evangelization, especially for indigenous people who are "often forgotten and left without the prospect of a peaceful future, including because of the crisis of the Amazon forest," which plays a vital role in the environmental health of the entire planet.
The Peru-Chile trip will be the pontiff's fourth to South America. In July 2013, he visited Brazil for World Youth Day. In July 2015, he traveled to Ecuador, Bolivia and Paraguay. His trip to Colombia in September was his third visit to the continent as pope.
Contrary to what happened in Bolivia, this time the Pope will avoid any reference to the sea outlet conflict of the landlocked country with Chile, following a strong suggestion from the Chilean government.