Argentine demanding US$ 1.2bn compensation from Cristina Fernandez and cronies
Wednesday, December 27th 2017 - 08:05 UTC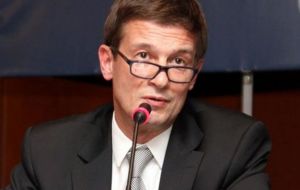 The Argentine government is demanding compensations of over 1.2 billion US dollars from ex president Cristina Fernandez, several of her ministers and staff, as well as businessmen benefitted by the Kirchner administrations, for damages caused by acts of corruption.
The sum is mainly linked to public works awarded to business tycoon Lazaro Baez, between 2005 and 2015, and which were never completed.
Besides Cristina Fernandez and Lazaro Baez, the list includes ex Federal minister Julio De Vido; Public Works Secretary, Jose Lopez; a cousin of Nestor Kirchner, Carlos Kirchner and Nelson Periortti, head of national roads planning.
The national roads planning office, which claimed funds had been diverted to Austral Construcciones and other companies belonging to the Baez group, requested before Federal judge Julian Ercolini compensation for the losses and damages caused by the actions of former government officials and Baez, between 2005 and 2015.
Prosecutor Gerardo Pollicita described the operation as a "major corruption maneuver" coordinated from government and state branches linked to public works, and defined the situation as "a criminal organization" created to pilfer "public funds through the discretional distribution of almost 80% of public roads contracts to the benefit of the Lazaro Baez Group".
Judge Ercolinni has indicted the ex president, De Vido, Lopez, Carlos Kirchner, Nelson Periotti on charges of unlawful association and defrauding the State.
Each of the indicted have a 10 million Pesos (approx US$ 600.000) embargo, and 180 properties have been retained to compensate the state for the losses and damages.